On Call As the week draws to a close and we bite our collective knuckles at all the things that went a bit wrong, take solace in another tale about those brave souls charged with fixing stuff when it all goes squiffy: On Call.
Today's story comes from an engineer, who we will call "Brad".
Brad spent the early 2000s working for a European company fortunate enough to secure some of the tasty, tasty cash flung from the UK government at, well, pretty much anyone with the right contacts skills to deal with Blighty's IT challenges.
Brad's employer was due to emit a release of the system it was developing, and the company's partner, delicately referred to by our reader as "a large outsourcing business", had singularly failed to get Oracle's wares installed on the database server.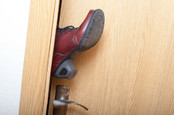 Never let something so flimsy as a locked door to the computer room stand in the way of an auditor on the warpath
READ MORE
The dreaded call came in at three in the afternoon. Brad was to "get on an airplane ASAP and go to the hosting centre to insert the proper set of Oracle CD-ROMS into the database server".
Brad told us: "The data centre happened to be conveniently located somewhere in the middle of nowhere between Wales, Bristol and Birmingham." And Brad, of course, was in Europe, but his "extremely uptight CTO" was having none of it, and so a ticket was booked, and Brad was on his way to Blighty.
After a journey fraught with airline overbooking, rental car shenanigans and motorway madness, Brad found himself at the data centre, armed with the requisite discs, at 11pm.
"Fortunately," said Brad, "security is alerted and there is even an engineer to assist me" – happy days! "I enter the server room, which is roughly the size of a football pitch, filled to the brim with racks."
Thinking of the palatial luxury hotel (probably the very Best Western, or perchance the most Premier of Inns) that awaited him once the CD had been inserted, Brad asked where the afflicted server actually was.
"All hopes are crushed when the engineer responds to my query where to find the server with a sincere: dunno mate, I just put them in the racks..."
Brad burned through another hour trying to find the server among the racks and racks of identically branded machinery (while also making the trek to and from security to retrieve his mobile phone to answer increasingly shrill calls for updates) before having his "Eureka" moment.
"Finally in a moment of clarity I decide to ask the DBAs to write a script to loop an open/close command for the CD-ROM tray."
Call it the prank-for-good. After another two hours of traipsing up and down the aisles looking for a server with a pulsating CD-ROM tray, Brad finally found the server ("almost the last rack we searched"), popped in the CD and was off.
Sadly, Brad's on-call odyssey was not quite finished. He made it to his "hideously expensive" hotel at 4am, and had to be up at 6am in order to catch a 10am flight home. After nearly causing an airport security incident due to forgetting about a tiny pair of nail clippers in his backpack, resulting in his flight missing three departure slots, Brad finally returned to Europe and that ever-so-uptight CTO.
And the flight home, delayed due to Brad's luggage faux pas? "Everyone on the plane was very cross with me and it resulted in me not getting any service on that flight..."
Probably for the best.
Remember the days before remote access, when being called out to sling in a CD was the only way to quieten an angry sysadmin? Drop us a line at On Call, and it could be your name we're making up. ®