This article is more than 1 year old
What's a billion dollars between friends? Uber tosses match on mound of cash in first results since going public
Stock prices take predictable battering
Minicab disruptor Uber burned a billion dollars in the quarter ended 31 March 2019, its first since going public.
Revenue rose 20 per cent to $3.1bn on a year ago, but Uber shouldered a loss from operations of $1.034bn compared to $478m last year. The company, however, claimed 93 million "monthly active platform consumers" (customers), up from 70 million the year prior.
In a quarterly report with a lot of unusual reporting metrics, Uber added a column of "adjusted net revenue" figures – which did not include "excess driver incentives" and "driver referrals" - that was about $43m lighter than its "revenues". Neither number included turnover from a whole host of other Uber units, including ridesharing, UberEats, "vehicle solutions", "Other", or "Other Bets".
None of this is fantastic news after a lacklustre stock market debut. Shares launched at $45 but are currently changing hands for $39.80.
CEO Dara Khosrowshahi said: "We are now focused on executing our strategy to become a one-stop shop for local transportation and commerce. In the first quarter, engagement across our platform was higher than ever, with an average of 17 million trips per day."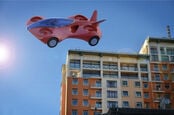 NASA tells The Reg: For crying out loud. We're not building flying taxi software for Uber
READ MORE
He added that Uber was starting to see rivals in the US focus on brand and product rather than price and that "in-house efforts remain focused on the commercialization of autonomous vehicles within our network. This includes developing our own autonomous driving, software and hardware stack."
CFO Nelson Chai defended the losses and said the company would not hesitate to invest to defend its market share if necessary. Chai said Uber was seeing a reduction in price competitiveness from some rivals. Looking forward, the company expected to see adjusted net revenues to grow sequentially in the next quarter and for growth rates to continue to accelerate over the year.
The quarter saw a $3.1bn acquisition of Careem – a ride-sharing and meal delivery rival in the Middle East, North Africa and Pakistan – as well as the trial arrival of its JUMP 'leccy bike service in London. ®