This article is more than 1 year old
Apple iPrunes iTunes: Moldering platform's death expected to be announced at WWDC
Service will split into separate apps for music, TV, podcasts
Apple is expected to confirm the imminent death of its iTunes service to be replaced with separate apps for music, video and podcasts.
The venerable service launched in 2001 and helped push the iPod to the top of the dedicated listening device charts. It provided an early, easy-to-use way to access paid-for music.
But with streaming services now taking about three quarters of music revenues, the days of downloads are numbered.
The official announcement is expected at Apple's fan convention developer conference, WWDC19, taking place later today. But Reddit users noticed that iTunes had disappeared from social media following an initial report from Bloomberg.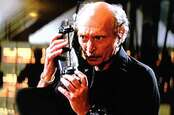 Inside our three-month effort to attend Apple's iPhone 7 launch party
READ MORE
The set of apps are expected to divide up video, audio and book content. No word yet on unrequested U2 warblings, as was foisted on users in the distant past.
Apple is aiming to make more money from services than its overpriced hardware. The firm talked up services of all sorts having brought in $11.5bn for its Q2 ended 30 March, up from $9.85bn the year before. However, overall revenues declined 5 per cent from the previous year's Q2, to a mere, er, $58bn.
With a claimed active installed base of 1.4 billion devices, Apple hopes to continue rapid growth of services and subscriptions to hang onto that the high margin sheen.
Just five months ago, Apple had to lower its estimates for the first time in over a decade after its sales volumes into the strategic Chinese market cooled off by a whopping 15 per cent in Q4 '18, with the fourth quarter being the biggest seasonal quarter of its year. Apple sold 2.6 million fewer mobiles into the country in the quarter, Canalys estimated at the time. ®