This article is more than 1 year old
Das geeks hit crowdfunding target: IBM mainframes are coming home
Plus a punched card reader and some extra manuals
Big congratulations to Adam Bradley and Chris Blackburn, who have raised enough cash to get their rescued IBM 360s back from Nuremberg.
If you missed the original story the pair found themselves the owners of a pair of IBM 360 mainframes and assorted peripherals following some over-enthusiastic internet bidding in the pub.
Two or three quick trips to Nuremberg were required to rescue the old iron before the building they were in was demolished. This was achieved with only minor dramas and the machines were safely stored in a Nuremberg lock-up.
The lads started fund raising in order to raise the £5,000 needed to hire a man and very large van to get the kit back to the UK.
Thanks to 113 contributors, a few of them Reg readers we reckon, they have now raised £5,020 – enough to cover transport costs and a couple of Wiener schnitzels.
Adam told us: "It's very exciting, we never imagined we'd have this much interest but we're incredibly happy that so many people love our project!" He said the two were following up a couple leads about transport but had been a bit busy with their actual paying jobs.
Adam also got a call from ever helpful auctioneer Gunther Hiller, which necessitated a fourth trip to Germany. Hiller reported that the roof of the machine room had leaked so they'd got the machines out just in time.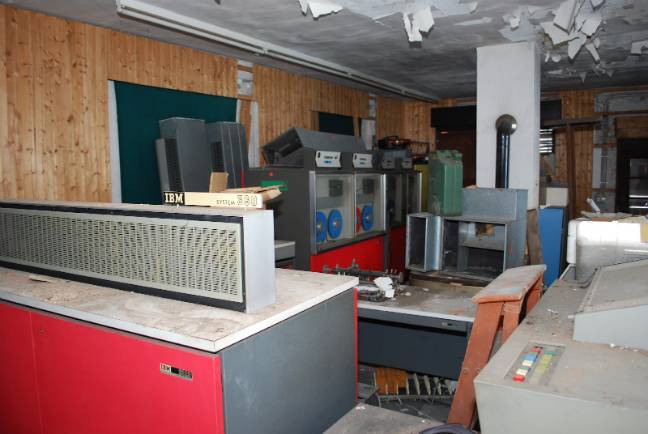 The roof in pre-leak stage...
But he also said that a 2501 punched card reader - with English buttons and the remains of a 5444 disk drive - had been found under a pile of Porsche parts. And a bunch of extra IBM manuals had been found in the attic above.
Adam hopped on a plane and hired another van. He found not just the machines but also in the attic upstairs a load of unused IBM punch cards and two unused IBM tapes still in their packaging.
Despite the dangers of a dodgy floor and wobbly shelves Adam and Gunther got the heavy boxes downstairs and stashed in the van.
Adam wanted to offer renewed thanks to Gunther Hiller, the auctioneer, who has gone out of his way to help with this oddball operation - offering not just advice and photographic expertise but also lugging heavy hardware in and out of the van.
The plan now is to start restoring the machines with the help of Peter Vaughan, responsible adult and volunteer at the National Computing Museum. All offers of help from ex-IBMers or electrical engineers with a taste for rust can cop an eyeful at the blog here. ®