IEEE says it may have gone about things the wrong Huawei, lifts ban after US govt clearance
Academic outfit U-turns on blacklisting Chinese bogeyman
---
The US-based Institute of Electrical and Electronics Engineers (IEEE) has lifted its sanctions on Huawei-linked academic reviewers.
In an email sent to members, seen by The Register, IEEE president Jose Moura declared the organisation's recent ban on Huawei-linked people peer-reviewing academic papers is over, pleading for the "patience of our members and volunteers" over the last week of pointed criticism from academics and the media.
That criticism all began with El Reg's report of the impact of IEEE sanctions on the academic community, with the sanctions having triggered a backlash from East and West alike.
Bizarrely, the wording of the original IEEE ban also included no IEEE-branded merchandise being sold to Huawei-linked people – including, of all things, coffee mugs.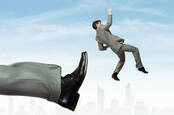 You go that way, we'll go Huawei: China Computer Federation kicks back at IEEE in tit-for-tat spat
READ MORE
In his email to the IEEE membership, Moura said, among other things:
We acted promptly because we wanted to protect our volunteers and members from potential legal risk that could have involved significant penalties. As a non-political, not-for-profit organization registered in New York, IEEE must comply with its legal obligations under the laws of the United States and other jurisdictions. We also engaged the US government to seek clarification on the extent to which these export control restrictions were applicable to IEEE activities.
I am pleased to report that this engagement was successful and we have revised our guidance to remove any restriction on the participation of the employees of these companies as editors or peer reviewers in the IEEE publication process. To reemphasize, all IEEE members can continue to participate in the open and public activities of the IEEE, including our scientific and technical publications.
This was a strong response to the concerns of academics and technological researchers concerned that even as non-US citizens in non-US countries, they were effectively being held to obey US law. Professor Alan Woodward of the University of Surrey previously told El Reg that the sanctions would "cause a big problem" by shutting out leading Chinese 5G experts from sharing their knowledge with the English-speaking world.
A US government Q&A (PDF, 15 pages) about the sanctions, which are part of US president Donald Trump's trade war against China and issued before the IEEE's U-turn, tends to suggest that academia was largely exempt from the restrictions anyway. ®