What does $9bn buy you? For Infineon, a Cypress hill of California semis
Mega-chips ahoy: German chip biz takes over piece of US real estate
---
Munich-based Infineon has said it will cough €9bn for California's Cypress Semiconductor.
The merged company claimed the deal will make it the world's eighth largest chipmaker and give it top spot for supplying chips to car and vehicle companies. As The Reg reported back in 2015, Infineon has done a lot of work in automotive and "with electronics becoming a significant part of a car's bill of materials, it's a lucrative market".
The deal will result in a wider portfolio of products for automotive, industrial and Internet of Things projects, the companies said.
As is typical in such tie-ups, the mega-merger is allow the pair to identify and squeeze out $180m in "cost synergies" and will add some bulk to Infineon's bottom line.
Reinhard Ploss, CEO of Infineon, said in a canned statement: "The planned acquisition of Cypress is a landmark step in Infineon's strategic development. We will strengthen and accelerate our profitable growth and put our business on a broader basis. With this transaction, we will be able to offer our customers the most comprehensive portfolio for linking the real with the digital world."
Cypress flogs a range of microcontrollers with software and connectivity products, which it hopes to sell alongside Infineon's microprocessors and sensors. Together they intend to sell new IoT applications into industrial and consumer markets as well as supplying automotive and driver assistance providers.
As some of you will recall, Cypress splurged a whopping $550m in cash to slurp Broadcom's entire IoT biz unit back in 2016. That acquisition included Broadcom's Wi-Fi, Bluetooth and Zigbee Internet of Things product lines, its WICED (Wireless Internet Connectivity for Embedded Devices) brand and dev community, and all the intellectual property that underpinned them.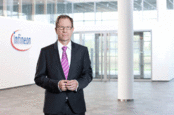 Infineon CEO admits auto-chip biz may be a takeover target
READ MORE
Infineon has had a tough year and seen its shares fall from €25 apiece a year ago to €16.45 on Friday. In March it warned that this financial year's profits would be significantly lower than expected with growth for the year of about 5 per cent rather than 9 per cent. It blamed a slower than expected growth in demand from several markets and, specifically, weak demand from vehicle makers in China. ®