Amazon, Apple, Google, Facebook in crosshairs: Politicos stick monopoly probe into Silicon Valley
US House Judiciary Committee and the Antitrust Subcommittee open Big Tech investigation
American lawmakers are opening an investigation into the dominance of large digital companies in their respective marketplaces, sending a collective shudder across Silicon Valley.
Representatives on the House Judiciary Committee and the Antitrust Subcommittee said Tuesday this week they will hold a series of hearings "on the rise of market power online," and grill any offending businesses via requests for information.
"A small number of dominant, unregulated platforms have extraordinary power over commerce, communication and information online," reads a statement from the committee.
"Based on investigative reporting and oversight by international policymakers and enforcers, there are concerns that these platforms have the incentive and ability to harm the competitive process. The Antitrust Subcommittee will conduct a top-to-bottom review of the potential of giant tech platforms to hold monopoly power."
The politicians didn't name any names, but a report by Reuters published on Monday claimed that separately, US prosecutors are interested in looking into Apple and Google over antitrust complaints, while America's Federal Trade Commission would like to quiz Amazon and Facebook – so that's at least four immediate targets for the antitrust subcommittee.
The House investigation will focus on documenting competition problems in digital markets and examine whether major firms are engaging in anti-competitive behavior.
How serious is this? The committee is expected to make a decision on whether existing antitrust laws and enforcement tools are fit for the 21st century, something that could result in a change in legislation.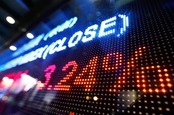 Google shares take a dive with reports of US DoJ 'competition' probe
READ MORE
Of course, in order to actually change anything, the lawmakers would have to fight an army of tech lobbyists residing on K Street – Google, Amazon, and Facebook spent a collective $48m on lobbying the US government in 2018 alone.
The investigation also presents a rare example of collaboration between House Republicans and Democrats - which have been at loggerheads since the Trump administartion arrived in the White House.
"Big Tech plays a huge role in our economy and our world," said Rep. Doug Collins (R-GA), ranking member of the Judiciary Committee. "Our bipartisan look at competition in the digital markets gives us the chance to answer these questions and, if necessary, to take action."
"Given the growing tide of concentration and consolidation across our economy, it is vital that we investigate the current state of competition in digital markets and the health of the antitrust laws," chimed in Rep. Jerrold Nadler (D-NY), chairman of the committee. ®