Pull up your SoCs: Samsung smartphones to get AMD Radeon graphics
Like a childhood dream come true
---
Samsung smartphones are set to do a lot more than just run Crysis after the company agreed to license AMD's GPU designs for its mobile devices in a multi-year deal.
The chaebol will get its hands on low-power graphics IP based on the recently announced RDNA architecture, developed as the foundation for AMD's enthusiast-level discrete GPUs.
Samsung previously relied on GPU cores from Arm and Qualcomm for its flagship handsets, but rumours about it wanting to add more oomph to its mobile silicon have persisted for years.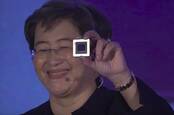 When two tribes go to war... Intel, AMD tease new chips at Computex: Your spin-free summary
READ MORE
The company will likely build AMD's cores into its own Exynos SoCs, which have powered Samsung's mobile devices since around 2010.
The deal involves not just smartphones, but also "other products", likely including tablets and IoT devices but nothing PC-related.
RDNA is the same architecture that will power AMD's upcoming Navi desktop GPU family. It will also drive the next generation of video game consoles from Sony and Microsoft. Both will also feature CPUs from AMD based on the Zen architecture, signifying that the console wars are well and truly over.
"Adoption of our Radeon graphics technologies across the PC, game console, cloud and HPC markets has grown significantly," claimed Lisa Su, president and CEO of AMD.
AMD's arch-rival Nvidia has been developing Tegra, its own mobile SoC with souped-up graphics cores, since 2008. Despite impressive levels of performance, it hasn't been very successful, appearing in a handful of devices, several cars for their in-vehicle infotainment systems, and the Nintendo Switch.
Other notable mobile GPU designers include Apple with its Bionic chip, Qualcomm with Adreno, Arm with its Mali line and Imagination with PowerVR.
Interestingly, the Qualcomm Adreno graphics chip family, used by Samsung, among others, was initially developed under the Imageon brand by ATI Technologies, which was acquired by AMD in 2006. AMD sold the handset division in the beginning of 2009 for a measly $65m – it must have looked reasonable at the time. ®