Tech lobbyists turn on Trump over Mexican tariffs, then quickly try to smooth the waters
Short-sighted and short-tempered, according to CTA
---
A top, and usually rather conservative, technology trade body has turned on President Trump over his threat to impose tariffs on goods imported from Mexico into the United States.
Last week, Trump tweeted that from next week he would "impose a 5 per cent tariff on all goods coming into our country from Mexico, until such time as illegal migrants coming through Mexico, and into our Country, STOP."
He added that the tariff would "gradually increase until the illegal immigration problem is remedied." The threat was met with criticism from across the political and business worlds, not least because it would be a blunt economic tool used solely to pursue a political goal: something that some argue surpasses presidential authority.
Among those using forceful words was the Consumer Technology Association (CTA) – which represents and lobbies on behalf of more than 2,000 tech companies, and usually goes out of its way to praise whatever the current administration does. Not this time.
"This is a short-sighted, short-tempered reaction that doesn't recognize a basic economic fact – tariffs are taxes," thundered CTA president and CEO Gary Shapiro, reflecting a growing frustration that President Trump continues to actively misunderstand and misrepresent what tariffs actually are.
Shapiro went on: "This administration must understand using tariffs to penalize other countries – whether that's China as a negotiating tactic or our close ally Canada for allegedly being a 'national security threat' – means American families, workers and companies pay the price."
That was an unusually critical voice in an atmosphere where business has learnt to keep quiet for fear of provoking the notoriously thin-skinned president. It was revealed last week for example that Facebook executives were told not to "poke the bear" by its main lobbyist when meeting with the president.
Backslide
But Shapiro wasn't done yet. "The administration made important progress yesterday by alerting Congress that the new NAFTA (USMCA) may come soon – but almost immediately backslid by slapping tariffs on Mexico, a valuable neighbor. This is potentially devastating to American small businesses and all the people they employ," he added.
Why the sudden break from praising Trump to direct criticism? It's all to do with supply lines – which are especially critical to the tech industry. "Mexico is not only one of our top trading partners, it's the number one export market for American consumer technology sector products – $41bn worth of US consumer tech sector goods in 2017, almost double that of our next highest export market."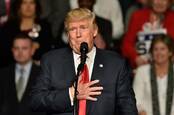 Prez Trump's trade war reshapes electronics supply chains as China production slows
READ MORE
The CTA statement, dated Friday, May 31, ends: "If Mexico reciprocates with tariffs of its own, our country's employers and workers will end up paying twice over for the administration's misguided trade policies."
The tech industry has already taken a significant hit from the tariff war that President Trump started with China and which many expected to be resolved just days before the president blew it up by tweet.
But in that case, the tech industry was hoping to get something out of confronting China: the country has not only ignored intellectual property for years but has also started threatening tech giants in their own markets with cheaper and high-quality products and services.
That is not the case with Mexico, which not only buys huge quantities of US consumers goods but also manufactures and assembles many of them for US corporations at a far lower cost than if they were made in the United States. The proximity of Mexico and the huge border between it and America makes transportation of those goods very cheap.
However, a 5 per cent tariff, with the implication that it will rise up to the 25 per cent currently on Chinese goods if Mexico fails to fix a largely intractable problem of illegal immigration at the border, represents nothing but a huge potential cost to tech companies, with no upside.
Bluster
Despite his bluster, Trump has in the past backed down on, or conveniently forgotten, policy pledges, especially when business has loudly complained. That was clearly the calculus in this case. But the statement from the CTA may have been a little too on-the-nose this time.
How do we know? Because first thing Monday morning, the CTA put out another statement explicitly praising the Trump Administration for an obscure proposed ruling in the health field made nearly two months ago.
"CTA Commends Trump Administration's Consumer-Centric Approach on ONC, CMS Rulings," reads the headline before offering "kudos to the Trump administration for prioritizing health care data - by requiring, with exceptions, that health care organizations give patients their medical records and health plan data in a free, secure, computable format."
The truth is that senior figures in the Trump Administration remain almost entirely blind to the fact that technology and digital markets represent a huge and growing percentage of the US economy. Decisions that are made on the basis of whether they help or hinder the steel industry can have a disproportionately negative impact on the tech industry.
In this case, growing frustration with the administration appears to have burst out. But at least the tech industry has that draft on interoperable health standards to fall back on. ®