This article is more than 1 year old
Apple strips clips of WWDC devs booing that $999 monitor stand from the web using copyright claims. Fear not, you can listen again here...
YouTube happy to spare iGiant embarrassment but won't take down 'slur' vids
Updated Apple's focus on privacy, if you're not in China that is, now extends to its events, at least the embarrassing moments.
The techno-glam-gear and services giant has demanded the removal of YouTube-hosted video excerpts of its live-streamed developer conference keynote. The offending clips captured crowd discontent – some booing and mostly gasping and groaning – on Monday over the $999 price tag of the Pro Stand for Apple's forthcoming Pro Display XDR.
One such video, titled "WWDC 2019 Pro Stand Crowd Reaction," received 895,728 views prior to its takedown on copyright infringement grounds, a move that's presumably a result of it being embedded in our coverage of the pricey monitor accessory.
The video will no longer play, and YouTube offers the following explanation:
Video unavailable
This video contains content from Apple, who has blocked it on copyright grounds.
The Register asked Apple for an explanation, but the company's communications team has not been communicative. Interestingly, there are many other videos of the event, shared on YouTube and Twitter, that weren't taken down presumably because they didn't include any embarrassing mocking of the pointlessly expensive monitor stand.
We've also emailed YouTube to see whether anyone there can provide further insight into the copyright takedown request. No word yet.
Chaos reigns
YouTube has been under fire this week for its uneven handling of hate speech complaints. Even as the web vid goliath on Wednesday said it has amended its policies to "prohibiting videos alleging that a group is superior in order to justify discrimination, segregation or exclusion" – no more white supremacy, apparently – it faces ongoing complaints from Vox journalist Carlos Maza over the platform's refusal to take action against YouTuber Steven Crowder: Crowder is accused of lobbing homophobic and racist slurs at the journo in a string of YouTube videos.
Google-owned YouTube today temporarily cut off Crowder's ad revenue as support for Maza surged, but quickly U-turned and said it would turn the money tap back on once Crowder, er, stopped selling T-shirts from the site.
"We have suspended [Crowder's] channel's monetization," a YouTube spokesperson tweeted earlier. "We came to this decision because a pattern of egregious actions has harmed the broader community and is against our YouTube Partner Program policies." So far so good, but then walked that slam back: "To clarify, in order to reinstate monetization on this channel, he will need to remove the link to his T-shirts."
Ri-ght. It then quickly clarified its clarification to say it's not just about the T-shirts: "Sorry for the confusion, we were responding to your tweets about the T-shirts. Again, [Crowder's] channel is demonetized due to continued egregious actions that have harmed the broader community. To be reinstated, he will need to address all of the issues with his channel."
But as Maza pointed out, it isn't even about ad revenue – it's about popularity-driven merchandise, speaking gigs, book deals, and so on: "The problem is that YouTube allows monsters and bullies to become superstars, break YouTube's rules, build an army of loyal, radicalized followers, and then make millions selling them merch that sustains their work."
Back to Apple
With all that said, for copyright complaints, however, YouTube has an unambiguous system in place.
David Paris, a board member at Australian advocacy group Digital Rights Watch, was among those who noted on Twitter that several videos of the shocked WWDC crowd on YouTube have been disabled.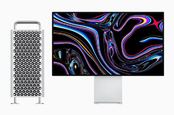 Apple kills iTunes, preps pricey Mac Pro, gives iPad its own OS – plus: That $999 monitor stand
READ MORE
Apple's takedown appears to be half-hearted, however. Other videos of the crowd's stunned reaction could still be viewed at the time this article was filed, not to mention a version that sounds as if they've been altered with an artificial laugh track.
Apple's apparent sensitivity to customer gasps has not yet affected its own keynote video, which remains publicly accessible. Anyone wishing to review the official version of events can jump ahead to 01:42:05. We've also uploaded an MP3 file, listen below, that preserves the moment of murmuring for posterity, because you never know when history may be hidden from view. ®
Audio clip of crowd reaction to Apple Pro Stand price
Updated to add
At least one of the taken down videos is now back online, but the one we used certainly isn't. We have asked Apple for comment.