This article is more than 1 year old
Salesforce CEO: Digital transformers, more than meets the eye (Autobots are coining it for you)
Anyone who thinks otherwise should Benioff
Digital transformation - sorry readers, we feel sick too - is as important to CEOs in this day and age as preparing for the Millennium Bug was to CIOs in the countdown to the year 2000.
This was the among the many utterings by Marc Benioff, the founder, chairman and co-CEO of the "ethical" SaaS biz, who last night leapt onto a conference call with analysts to brief them on Q1 financial results.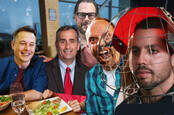 That time Brian Krzanich had dinner with Elon Musk, Marc Benioff, David Blaine and Lars from Metallica
READ MORE
Revenue for the quarter ended 30 April 2019 was up 24 per cent year-on-year to $3.74bn: subscription and support revenue came in at $3.5bn, up 24 per cent as professional services grew 23 per cent to $241m.
Sales Cloud turnover was up 11 per cent; Service Cloud grew by a fifth, marketing and e-commerce jumped by a third, Platform and Other grew 47 per cent.
So positive is the direction of travel that Benioff and co issued top-end sales guidance for fiscal '20 of $16.25bn. "That's up $200m from 90 days ago when we had our Q4 earnings call."
The self-licking didn't stop there - no one knows how to get to those hard-to-reach places like Benioff - when he pointed to IDC last month ranking Salesforce as the top CRM company for the sixth year.
"That is more important than ever," he told the audience of financial analysts, "especially as so many of our customers are going through these tremendous digital transformations and we all know every digital transformation begins and ends with the customer.
"And when I'm with these CEOs all over the world, this is really front and centre in their mind. It's probably as exciting to them and it's important to them as it was to CIOs who [were] buying for Y2K, which is almost 20 years ago. I think the digital transformation remains just a huge growth opportunity for our entire industry."
Salesforce was founded in February 1999, months before the start of the year 2000. Billions of dollars was thrust at modernising infrastructure and code to ensure businesses kept on running. Then - from the point of view of onlookers - nothing happened. It led to some very lean years for the tech industry when customers questioned the point of that investment and the returns.
Surely the same fate does not await digital transformation and then industry in a post-digital transformation world? Perish the thought.
On a roll, Benioff refused to jump off the marketing bluster bus and continued to wax lyrical about Salesforce amassing more CRM market share that the "15 top vendors combined".
Life must be tiring for The Benioff. But it isn't. There are just so many opportunities to grab, hence the "relentless focus on innovation".
"We're number one in sales, we're number one in services and we're leading in so many other areas. We're number one in model-driven application platform, driven by our amazing community of 6 million developers. We're also a leader in marketing and commerce."
Talking of Salesforce's eco systems, Benioff said Trailhead, an online learning platform, will create 3 million jobs and more than $850bn in GDP by 2022. There are currently 1.4 million "learners changing their career and their lives on Trailhead".
The platform "will be a huge driver of workforce development, which is why we are so excited that two weeks ago, we were with Ivanka Trump at at our first ever Trailblazer day in [our HQ in] Indianapolis".
Benioff said his company has a "vision to change the way the world does business". But we at El Reg think he has done so much more. Thanks Marc. ®