HPC processor project tosses architectural designs on desk of the European Commission
Promises to give EU the goods by 2021
After just six months, the EU-funded project attempting to build home-grown CPUs that would power future European supercomputers has delivered its first architectural designs.
The European Processor Initiative (EPI) has sent blueprints for its RISC-based chip to the European Commission. The body said it expects to ship the first crop of products based on the designs some time in 2021.
"It is a privilege to lead this consortium and enable the creation of a new big player in the field of advanced semiconductors in Europe," said Philippe Notton, GM of EPI and head of processor initiatives at Atos, which is pretty much the only major European supercomputer vendor.
"We have the best teams, and a huge portfolio of expertise on board from deep node submicron, co-design, computer science, to HPC and automotive end-products."
The project aims to help European researchers reach exascale by building supers with the power of at least one exaFLOPS (a billion billion calculations a second), or 1,000 petaFLOPS.
IBM's Summit, the most powerful computer in operation today, only manages around 200 petaFLOPS of peak performance.
The EPI was announced last year and launched officially in December 2018, with 23 participating organisations – mostly research universities – from 10 European countries. It has since added another three members.
The project is funded under Horizon 2020 – a €77bn research and innovation programme for 2014-2020, aimed at securing Europe's global competitiveness, driving economic growth and creating jobs.
The EPI aims to create a family of RISC-based processors to get the job one: likely a mix of RISC-V-compatible accelerators, and Arm-based general cores. Initial designs are for supercomputers – including both CPUs and accelerators for specific workloads. Next in line are Europe's car makers, which hope to adopt the chips.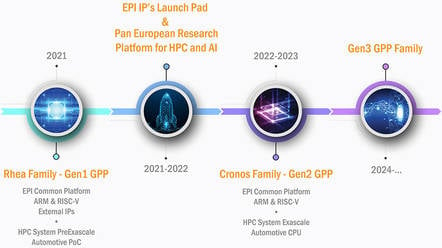 EPI roadmap (click to enlarge)
The EPI will develop not just hardware, but also middleware, developer kits, compilers and libraries, and end-user applications for HPC. More broadly, it hopes to boost European chip-making skills, at a time when clever silicon is becoming a source of trade tensions – this started even before Trump arrived on the scene.
"Acceleration is crucial to continued performance gains while reducing power consumption in computing," said Professor Mateo Valero, director of the Barcelona Supercomputing Centre.
"In EPI, the first accelerator will begin from RISC-V technology to deliver two unique vector and artificial intelligence accelerators for HPC and AI, since future supercomputers will be mostly heterogeneous," said Valero. He added: "[T]he second accelerator, based on Kalray's IP [Kalray is a member], will lead the path to deterministic automotive computation. Both are offering a European solution to future global converged (HPC and AI) computing needs."
With the lack of local chip suppliers, Europe was never going to build the first exascale machine. China is widely anticipated to win the race, with the Tianhe-3 supercomputer expected in 2020. A year later, the US is expected to reach exascale with the trio of Aurora, Frontier and El Capitan, to be used by the country's national labs.
Japan's $910m Post-K exascale supercomputer, based on Arm processor cores, will become the country's most powerful machine once it is switched on some time during 2021 or 2022. ®