UK's internet registry prepares a £100m windfall for its board members – and everyone else will pay for it
Snouts in the trough for The Great British Brand Sell-off
Denial
Nominet denies the accusations. Asked why the special purchase period exists at all, the company told The Register: "This approach reflects the fact that .UK domains are registered through registrars. That's the easiest and cheapest way to register domains."
As to why Nominet felt that a special system was needed to register the names, it told us: "The key challenge for Nominet is to ensure the integrity and resilience of our registration systems, both for these names and for names registered in the normal course of business.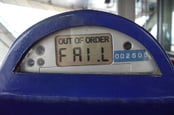 Goddamn the Pusher man: Nominet kicks out domain name hijack bid
READ MORE
"This has resulted in two key features: firstly, we are using a separate system and a specific release process for these domains. This is due to the likely volume of domains being made generally available for the first time and a requirement to keep registration entirely segregated from our usual registrations.
"Secondly, in order to prevent system overload by users seeking to register very many names simultaneously, we are limiting registration requests to a prudently low number per minute."
Asked why it had introduced different technical requirements to the current system that is used to register and renew the UK's over 11 million domain names, the company said:
"Regarding choice of technical systems, we have taken the decision to adopt a conservative approach using one system to maximise resiliency for this short period of heightened demand. It has not been our approach to provide or write code for registrars. Registrars unfamiliar with our main EPP system have the option of using publicly available code, or could work through another registrar."
In response to a question over why buyers that pay Nominet more upfront will be allowed to register more names, the company said: "We decided that registration requests would be allocated most fairly in relation to the total number of domains that a registrar was aiming to register. This was based wholly on each registrar's own assessment of volumes. The requirement for sufficient funds or credit limits is designed to ensure that successful registrations can be paid for, and to avoid gaming of the system."
Nominet claims that it provided everyone with "a clear and adequate period of time for participation – around one month" and that it had notified all its members "through the usual channels on several occasions."
No extension
Notably, however, Nominet has refused to extend the deadline – one of the main demands from the unhappy registrars and, while it says that it is "reviewing the issues raised by some members," it also claims that "the vast majority of our 2,460 members have not raised any issues." It promises the board will respond to those members that have complained soon.
This is far from the first time that Nominet has been accused of representing the financial interests of its largest members.
The company was originally set up as a public interest member organisation where paying members were able to purchase .uk domain names at a discount. But as the .uk registry exploded, and Nominet made millions of pounds more than it needed to run its technical systems, tensions built.
Despite the creation of a charitable trust into which Nominet placed much of its profits, the company's board and staff were repeatedly accused of lining their own pockets with large salary rises and bonuses. A stakeholder revolt intended to force greater accountability on the organization and use excess funds to reduce the cost of .uk domains was defeated in large part thanks to a voting structure where registrars with more domain names are given greater voting rights.
That in effect gave the largest four .uk registrars a veto over the organization, something that they used to great effect to undermine reform efforts and ouster a chairman pushing those efforts. The organization descended into civil war and eventually required the intervention of the UK government.