This article is more than 1 year old
Help the Macless: Apple's iPadOS is a huge update that will enable more people to do without a Mac... or a PC
Even mouse support. Kind of
WWDC Apple announced iPadOS at its WWDC event in San Jose, giving the tablet its own dedicated operating system for the first time.
This is playing with words to some extent (it is iOS 13), but there is no denying the huge range of new features, with over 250 listed on Apple's preview page, some of which are key to making the iPad a viable alternative to a PC or Mac for much of your work.
There is no substitute for a full-fat operating system like macOS for developers or users of demanding applications like Adobe Photoshop, Autodesk's AutoCAD, or GPU-intensive games. Further, the freedom and hackability of a desktop OS is a big plus for tech-savvy users.
That said, the safety, convenience and low maintenance of an iPad is a big attraction. As Apple gradually improves its capability, the number of people who can use it (alongside a smartphone) as their primary computing device increases.
There are also strategies which businesses can use to enable occasional access to PC or Mac resources from an iPad, such as remote desktop apps. Users whose work is largely cloud-based, such as customers of Google G Suite or to some extent even Microsoft's Office 365 are also well placed to use a tablet. Microsoft's iOS Office apps are decent but the full desktop versions are still hard to do without.
New iFondle features
So what is new in iPadOS? Several things familiar to macOS users are now coming to the iPad. One is custom fonts. You will be able to install fonts from the App Store and manage them in settings.
Another is external drive support and better file management. You can access USB drives and SD cards, zip and unzip files, create folders in local storage, browse your downloads folder, and connect to file servers using SMB (Server Message Block, used for Windows file shares and others). Storage space, at last, is a problem easily overcome, with or without the cloud.
Multitasking is improved, with multiple windows from the same app now possible in Split View. The Slide Over feature, where an app floats over another app's window, is enhanced so you can easily switch between Slide Over apps or make one full screen.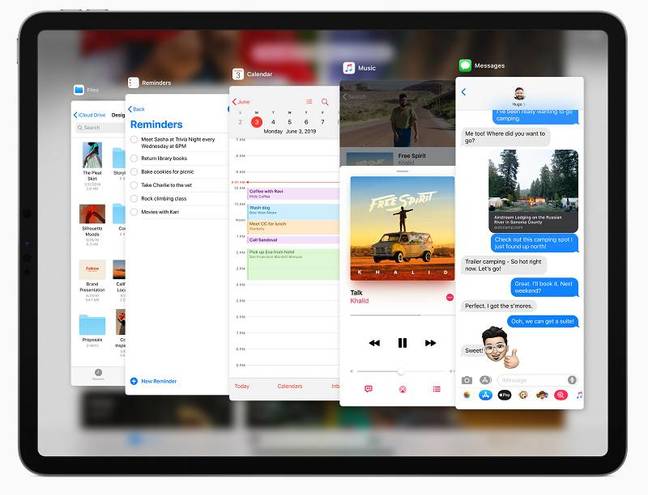 Switching between multiple apps with Slide Over
Drag and drop is now supported so you can tap, hold and drag content from one app to another, if said app's developers have added this feature. There is also an idea called spring-loading, where you drop content to an icon in the Dock or home screen, to open it in the app. Drag and drop includes multi-select, where you start dragging one item and then add others.
Text editing is being enhanced with more gestures. Things like "tap and swipe" for selection, triple-tap to select a sentence, and quadruple-tap to select a paragraph may make sense once learned, but new things like "Pinch up with three fingers to copy" are hardly intuitive.
Why not just use a mouse? Apple could easily support this, and in fact mouse support has been discovered in the AssistiveTouch menu on iPadOS, but according to reporter Steven Aquino it is only intended as an accessibility feature.
So, on mouse support... Apple made clear to me it is an ACCESSIBILITY FEATURE first and foremost. Meant for users who literally cannot access their devices without a mouse, joystick, whatnot. As @stroughtonsmith found, it's in AssistiveTouch menu.

Thread…

— Steven Aquino (@steven_aquino) 4 June 2019
If it works, users may not care, but the details are not yet clear; Aquino said that software was "not designed for old school cursor support". Given the excellence of iPad keyboards, full mouse support would be welcome.
Feature discoverability on the iPad is an issue. Browsing through online help is good for those "Oh, I didn't know that" moments, but this is not how it should be.
Web, voice, AR and business
In Safari, you will now get the desktop version of a website rather than a mobile version by default, for those sites which are not fully responsive. There is a new download manager where you can check the status of downloading files.
All new in iPadOS is voice control, which uses the Siri speech recognition engine to let you control an iPad. Audio processing is done on the device, part of Apple's privacy pitch. For example, you can say "Show numbers" to have a number appear next to all tap-able items, and then say the number to tap it. A neat touch is what Apple calls "Attention awareness". Voice control is only active when you are looking at the screen, as detected by the front camera.
There is also Dolby Atmos support for audio, and scrolling lyrics in music playback. Gamers will be happy to know that PlayStation 4 and Xbox One S Controllers are supported in iPad OS.
Augmented reality developers get a ton of new features in ARKit 3, Apple's AR framework. This includes tracking movement, tracking up to three faces in the front-facing camera (TrueDepth camera only), using both front and rear cameras simultaneously, and "people occlusion" to allow people to walk in front of virtual content.
Business users get some new device management features, including user enrolment, designed for BYOD (Bring Your Own Device) scenarios. This will protect corporate data. Another business feature, called managed Apple IDs, lets administrators create and mange Apple IDs for business use of Apple services like iCloud Drive.
The iPad already outsells the Mac. For example, in the first quarter of 2019, according to Gartner, 3.98 million Macs were sold, whereas iPad typically sells around 10 million units per quarter. Peak iPad was in Q1 2014 according to Statistica, with 26.04 million units. Just as the iPad encroaches on Mac territory, so too do smartphones encroach on tablet territory.
Apple's iPadOS, combined with new options to create Mac versions of iPad apps, show how the company is increasing the overlap between its desktop and mobile operating systems. If you need macOS, you need it, but the iPad is now a mainstream productivity device. ®