Cloudera CEO quits as customers delay orders due to uncertainty after Hortonworks merger
Pesky public cloud rivals didn't help either as share price crashes 30%
Fiscal '20 hasn't started well for Cloudera as enterprise customers paused spending due to roadmap uncertainty over the Hortonworks merger and held off for the coming of the Cloud Data Platform (CDP).
Oh, and CEO Tom Reilly has quit just months after getting the job at the expanded organ. He is set to stand down on 31 July once a permanent successor has been found.
The cloud data and open-source database swinger, which announced the corporate mash-up with its rival last autumn, reported revenue of $188m for Q1 ended 30 April, just shy of analyst expectations.
The top line included $155m of subscription revenue and services of $32.6m. Annualised recurring revenue jumped 21 per cent to $672m.
No like-for-like comparison between Cloudera and Hortonworks numbers for the corresponding quarter a year ago was provided. Cloudera closed Q1 '19 ended 30 April with turnover of $102.7m, and Hortonworks' Q1 ended 31 March when it brought in $79.06m in revenues.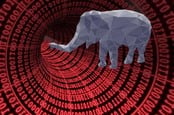 Hortonworks faces sueball over Cloudera merger
READ MORE
Reilly told analysts on a conference call "what did not go well" in the quarter and how he plans to start "addressing it".
"In our first quarter as a merged company, we experienced headwinds in booking from existing customers," he said. "These customers generally represent more than 90 per cent of our growth."
He said two factors shaped the numbers – firstly, the merger in October 2018 "created uncertainty, particularly regarding the combined company roadmap, which we rolled out in March this year. During this period of uncertainty, we saw increased competition from the public cloud vendors.
"Second, the announcement in March of Cloudera Data Platform, our new hybrid and multi-cloud offering, created significant excitement within our customer base... however, our rapid execution on the [CDP] has caused some customers to wait until release to renew and expand their agreement."
Sales reps have been trained to flog CDP and to spell out the newer roadmap. "We are seeing significant pipeline," Reilly claimed.
CDP is a pretty big beast and in theory lets IT management folk move data between on-premises tech and public cloud services. It extends from the edge to AI, the company trilled. And of course it is open source.
Clearly the thing can't come soon enough for Cloudera and its investors. News of the results and the CEO exit caused its share price to crash by around 30 per cent last night.
Reilly said the "integration and execution" of the merger with Hortonworks is going according to plan, with the work around teams done and dusted and "cost synergies" ahead of schedule.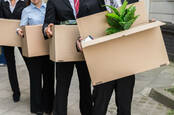 A Christmas classic: Cloudera founder asks staff to stay another day
READ MORE
On his departure, the exec described it as a "planned retirement" with chairman of the board Martin Cole adding the interim CEO role to his CV.
Reilly said: "For several reasons, I decided that this summer is the right time for me to retire... Cloudera is well positioned with the merger integration largely complete, and an exciting roadmap in place and an aligned seasoned executive team.
"The company will benefit from a new leader who will bring different perspective and experience with large scale operations."
Seems a strange time to leave when he was chosen to lead the business just months ago. Perhaps he or the board – maybe both – realised they need someone else with a track record at a large organisation.
Total expenses went up to $229.98m leaving a loss from operations of $103.7m, albeit better than the general consensus from analysts. The net loss was $103.7m. ®