Euro data centre club throws itself to the li-ions – to the delight of battery vendor members
Whitepaper sings upcoming power tech's praises
The European Data Centre Association (EUDCA) has published a whitepaper extolling the virtues of li-ion batteries - a tech that is still veiwed with suspicion by some bit barn operators.
It should, however, be noted that alongside 23 data centre operators, members of the organisation - which represents the commercial interests of the region's players - also include li-ion battery makers Vertiv and Schneider Electric.
Despite their many advertised benefits, UPS systems based on li-ion remain a rare sight in data centres. Any new technology is often treated with suspicion by the extremely risk-adverse industry and li-ion cells are seen as unproven – at least in comparison to familiar valve-regulated lead-acid (VRLA) batteries that have been successfully used to protect data centres for decades.
The whitepaper – written by Gareth Williams, director for UKMEA data centre practice at engineering consultancy Arup – presented a case that the constantly shrinking costs of li-ion have made the technology more competitive and it now provides a payback period of less than five years, once the operational savings are considered.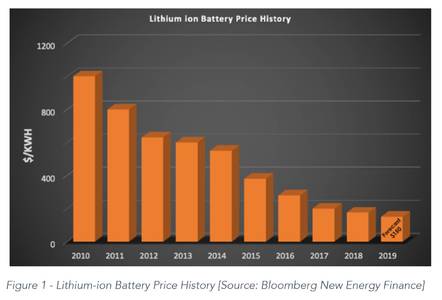 Li-ion battery prices since 2010 (click to enlarge)
The paper also describes the new ways operators can make money from their li-ion UPS investment, like the demand side response schemes being trialled in Europe – which enable data centre operators to sacrifice a part of their battery capacity to support the power grid, and get paid for this service.
Li-ion helps bring power closer to the server rack, or even place cells within the rack itself, since they are less sensitive to temperature and don't require an air-cooled battery room.
This enables data centres to do new and interesting things like diverting or reserving power to meet the demands of specific applications, racks or rows, or allocating power during failure scenarios based upon priority level of the application.
Operators can also peddle multiple Service Level Agreements (SLAs) – which specify the amount of permissible downtime – within the same data hall.
Williams said some UPS vendors in the US are already able to sell their largest customers li-ion power protection at the same cost as VRLA-based systems. Hyperscalers known to experiment with li-ion energy storage include Microsoft, Facebook and Google. ®