This article is more than 1 year old
Judge slaps down Meg Whitman for accusing Autonomy boss of being a 'fraudster who committed fraud'
'Things have to be proven,' intones Mr Justice Hildyard
Autonomy Trial A High Court judge rebuked Meg Whitman today for stating as a fact that former Autonomy chief exec Mike Lynch committed fraud.
During a tense series of exchanges this afternoon between Whitman and Lynch's barrister Robert Miles QC, the one-time HP CEO was repeatedly asked why her company didn't speak to Lynch himself before going public with its claims of false accounting.
"I don't know why you'd ask a fraudster why he committed fraud," said Whitman. Miles, who by this point had asked the question a number of times, snapped back: "Because you want to find out if he's a fraudster, Ms Whitman, that's the normal way that people do things in the world."
"Well, I don't believe that's the case," replied Whitman. "We knew exactly what had gone on here."
Poker-faced, the judge, Mr Justice Hildyard, intervened: "Then I wouldn't have anything to do, would I?"
"I'm sorry?" muttered Whitman, thrown off balance, to which the High Court judge replied: "Things have to be proven."
The courtroom briefly fell silent before Lynch's legal team laughed, almost sycophantically. It marked the sharpest possible contrast against Whitman's evidence from yesterday, where she locked horns with Miles and nearly ground him to a halt.
Can't you solve your own problems, Mike?
In the second day of her evidence in the long-running Autonomy trial, HP's one-time chief exec characterised Lynch as someone who, after the August 2011 purchase of Autonomy by HP, was unable to solve his own problems.
Instead, said Whitman, Lynch brought her a constant flow of complaints that HP's internal processes were hamstringing Autonomy's efforts to keep its revenues up. One such example was a lengthy email sent by Lynch in February 2012 complaining that Autonomy had been forced to go through an internal HP due diligence process before HP's sales force would sell their products pre-bundled with HP hardware. Lynch suggested Whitman hire a "craziness czar" to clear these problems.
Miles put to the former CEO: "The point he's making there is a serious one isn't it, there wasn't proper coordination between departments inside HP, is there?"
Unimpressed, Whitman replied: "With all due respect, this is a tiny issue," continuing: "When you sell a customer a product, there needs to be a certain certification around that product, a certain due diligence, and this was one of the requirements of a big company. I think this took, maybe, a few hours to fill out this questionnaire. This is a minuscule issue… OK, you get someone to fill out the questionnaire, it takes two hours and you're good to go."
Miles also sought to paint a picture of Autonomy facing a brain drain after the buyout, especially from senior members of staff. Though Whitman commented "I don't think an email with two or three individuals leaving is representative of all of Autonomy," going on to say that Lynch's complaints of an exodus were only being made because "he knows his days at this company are numbered," Mr Justice Hildyard intervened again, as Whitman launched into yet another mini-speech.
"I'm worried that I will not fully understand your state of knowledge if it is wrapped in a context before you answer the question," said the judge. "I need to understand, as best you can recollect, what was your state of knowledge at the time."
As another judicial slapdown, it was indicative: Whitman was losing the judge's confidence. No matter how detailed, or verbose, her testimony was, if Mr Justice Hildyard wasn't happy with her, that raised questions over whether her version of events would prevail over Lynch's.
Gardening leave and fraud allegations
Miles also wondered what Whitman was doing when, in response to an email from Sushovan Hussain apparently warning that 157 people had quit Autonomy in the runup to HP's Q2 2012 financial results, Meg suggested "let's put him on garden leave." As Miles read out Hussain's email, originally sent to Bill Veghte in mid-2012 and forwarded to Meg herself, Whitman began chewing the arm of her spectacles in what appeared to be a sign of stress.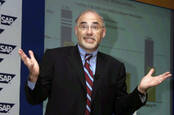 Mad King Leo pulled the wool over HP shareholders' eyes, ex-CEO Whitman tells court
READ MORE
"That's a pretty peculiar reaction, I suggest," said Miles, referring to Whitman's suggestion in the email chain of effectively firing Hussain. "He was raising a serious point here."
Hussain later quit Autonomy of his own accord.
Whitman said, at length, that the email had to be taken in context and that by that point she had lost confidence in senior Autonomy execs thanks to "one of the biggest [revenue] misses I've seen in my career," with Autonomy results for Q2 FY2012 coming in 30 per cent below HP's public predictions.
Miles also pressed Whitman hard on the accusation that she had no sound basis for accusing his client Lynch of fraud, saying: "I'm suggesting to you that you were making an extremely serious allegation and you did so without ensuring that any proper calculation [about how much damage Lynch and Hussain's alleged fraud caused] had taken place?"
Whitman fell back on saying she trusted her team at HP, particularly including then-CFO Cathie Lesjak, to have done their sums and accurately calculated the impact of the alleged fraud on the synergies (value added to HP) from the Autonomy buyout: "It was left for Cathie Lesjak and the accounting team. That is a major role of the CFO and the accounting team, to decide what is the right answer."
Next week Lesjak herself will enter the witness box, with Lynch himself rumoured to be doing so too before the summer holidays. The trial, as it will do for many months to come, continues. ®