Two professors at Tulane University in New Orleans, Louisiana, have been indicted for an alleged plan to steal computer trade secrets from their former employer, a technical services non-profit called the Water Institute of the Gulf, and to commit computer fraud.
The US Department of Justice on Wednesday announced the indictment of Ehab Meselhe, 53, and Kelin Hu, 42, based on claims that the two academics, between October 2018 and January 2019, conspired to steal the Basin Wide Model, a collection of data and computer code used to project how the Mississippi Delta will change over time.
The model, the indictment [PDF] says, helps the Water Institute of the Gulf obtain consulting contracts worth millions of dollars from other organizations concerned with environmental issues like the Environmental Defense Fund. Its loss would thus hinder the organization's ability to compete for those contracts.
The Justice Department release mentions that Hu is a Chinese citizen living in the US, but the indictment offers no indication that the case has anything to do with Chinese trade secret espionage, a subject of intense interest to federal authorities at the moment. Rather, the allegations are that the supposed scheme was pursued for personal gain.
According to the indictment, Meselhe, who left the Water Institute in October last year, told Hu the following month that he would bring him on staff at Tulane, provided he copied the Basin Wide Model before he resigned. The pair agreed, it's said, to communicate via personal accounts rather than work accounts to avoid detection.
But, the indictment says, in January this year Hu was caught in the act of downloading the files to a personal computing device, fired and escorted from the premises of the Water Institute. That's how the incident came to the attention of authorities.
"Theft of proprietary information and intellectual property for personal gain will not be tolerated by this office, especially where the theft is from a research institution whose purpose is to study environmental impacts so that we can best protect our citizens from natural and man-made disasters and other coastal threats," said US Attorney Brandon Fremin in a statement.
"Businesses, universities, and many other organizations like the Water Institute invest tremendous amounts of time, talent and money in creating proprietary information to advance their various missions – they should be protected too."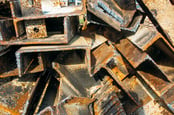 Church roofs? Nyet, say Russian scrap thieves, we're taking this bridge
READ MORE
"We are deeply troubled and saddened by the recent allegations and charges filed against our former colleagues," Justin Ehrenwerth, president and CEO of the Water Institute, told The Register.
"We will continue to cooperate fully with federal law enforcement and we have hired outside experts to conduct a comprehensive review of our internal processes and systems – including information technology, security, and intellectual property – to ensure all appropriate measures are in place."
Steven Moore, Hu's attorney, defended his client and said he expects Hu to be cleared of the charges.
"Professor Hu was a loyal employee of the Water Institute and followed all instructions of his superiors throughout his employment," said Moore in an email to The Register.
"Professor Hu worked on many projects on behalf of the Water Institute including collaboration with other institutions with whom they shared data. Professor Hu worked only with individuals and institutions known to the Water Institute and with the Water Institute's full blessing. Professor Hu has been and will continue to fully cooperate in the investigation and has truthfully answered all questions and turned over all items as requested by the Government and the Water Institute. Professor Hu denies any wrongdoing and is looking forward to the entire matter being fully disclosed and him being exonerated."
Michael W. Magner, a partner at Jones Walker LLP and attorney for Meselhe, offered a similar defense of his client in an emailed statement:
Dr. Meselhe has an impeccable reputation within the professional and academic community in Louisiana and nationally. He dedicated the past 22 years to serve the State of Louisiana with the coastal restoration efforts. He was the lead designer and developer of numerous numerical modeling efforts — and he completely denies any wrongdoing. Besides the fact that Dr. Meselhe developed the computer modeling programs at issue in this case, most of them are and have been available to the public, scientific and engineering communities, and other public and non-profit institutions for the purpose of protecting Louisiana's coast. Dr. Meselhe is not guilty of the crimes alleged, and he looks forward to having his day in court where we expect that he will be completely exonerated.
®