This article is more than 1 year old
Finnish and Russian comms giants shake hands on submarine cable across Arctic Sea
Cinia, MegaFon expect to start work in the fourth quarter
Finnish network operator Cinia and Russian mobile giant MegaFon are planning to lay a telecommunications cable across the Arctic Sea.
The two companies have signed a memorandum of understanding, expecting to enter a joint venture in the fourth quarter of the year.
The 10,000km Arctic Connect cable would stretch from Helsinki to Tokyo, cutting network latencies along its route and enabling new digital infrastructure markets.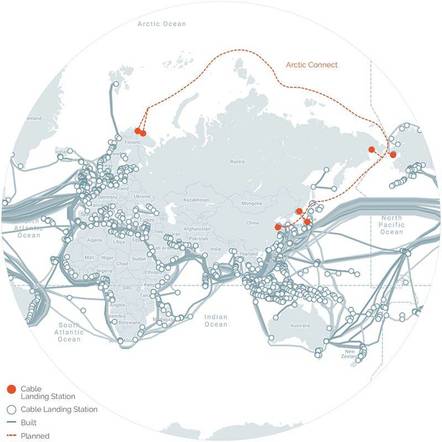 Cinia cable map (click to enlarge)
"The Arctic cable will contribute to the socio-economic development of the Arctic areas," said Ari-Jussi Knaapila, CEO of Cinia. "The cable is an environmentally sustainable way to boost global, regional and local economy. At the same time, the cable will connect three continents, covering approximately 85 per cent of the world's population."
The company notes that almost all international communications involve one of the submarine cables criss-crossing the world. Cinia's first such system, C-Lion1 – which connects Germany to Finland – launched in 2016, with 144Tbps of capacity.
Its latest project will present the lowest-latency sea route between Europe and northern Asia, while also enabling further exploration of the Arctic – at a time when sea ice decline makes shipping through the region much easier than in the past. Russia has been especially active in its efforts to find deposits of natural resources in this inhospitable environment. ®