This article is more than 1 year old
When it comes to DNS over HTTPS, it's privacy in excess, frets UK child exploitation watchdog
Encrypting web queries makes it more difficult to block underage sexual abuse images
Analysis Since last year, organizations like Cloudflare, Google and Mozilla have been working to encrypt DNS queries by implementing a protocol called DNS over HTTPS, one of a handful of related web specs that aim to close privacy gaps that can expose network requests to potential scrutiny.
But the Internet Watch Foundation (IWF), a UK-based advocacy organization focused on eliminating child sexual abuse images online, worries such privacy protects those seeking and distributing child exploitation content.
"We feel that the way in which DNS over HTTPS is proposed to be implemented could expose millions of people across the world to the worst imagery of children being sexually abused and could mean that the victims of such abuse could be exposed to countless sets of eyes," a spokesperson for the organization said in an email to The Register.
Positives and negatives
When an internet user enters a URL into a browser, a domain name system query follows that attempts to locate the name server capable of matching the domain to an IP address. That query, because it's not encrypted, can be observed anywhere the data gets handled, such as the user's ISP.
In the UK, thanks to the 2016 Investigatory Powers Act, ISPs pay attention to those queries because the law requires keeping a 12-month record of web visit data. And elsewhere, ISPs may choose to monitor DNS queries to sell to advertisers or to conduct required censorship, among other possible purposes.
The IWF argues that its model for spotting and removing child sexual abuse imagery and videos from the internet works, noting that the percent of such material hosted in the UK has declined from 18 per cent in 1996 to 0.04 per cent in 2018.
Though that says nothing about whether there's been a commensurate change in local demand for the illicit content, the IWF maintains that DNS over HTTPS puts the IWF URL list of web addresses hosting child sexual abuse material in peril. ISPs use the list to deny people access to the illegal material.
"The implementation of DNS over HTTPS could render the service obsolete, allowing already identified criminal material to be freely accessed by those with a sexual interest in children and risking millions of internet users across the globe seeing such content," the IWF spokesperson said.
DNS over HTTPS will make such scrutiny more difficult, at least for ISPs that aren't also providing DNS service. Those providing DNS over HTTPS like Cloudflare and Google will be able to view unencrypted queries and provide that information to authorities, if required by law. So it may be that DNS over HTTPS won't so much close the query surveillance window as move it to another location, shifting the balance of power among industry players in the process.
In a phone interview with The Register, Matthew Prince, CEO of Cloudflare, said there are legitimate concerns that need to be balanced in this situation.
"DNS is the white pages of the internet," he said. "A DNS query, which takes a domain, example.com, and turns it into an IP address – by default that's traditionally been over an unencrypted protocol and has allowed ISPs to monitor the sites you go to and sell that data to advertisers. It has also allowed repressive regimes to block access and control the internet in different ways."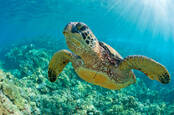 Insane in the domain: Sea Turtle hackers pwn DNS orgs to dash web surfers on the rocks of phishing pages
READ MORE
Prince acknowledges that DNS of HTTPS throws a wrench into that model. But he argues there's something to be gained from privacy too.
"I think we should all be careful when the argument is 'think of the children' to really unpack it and make sure there's something there," he said. "Is it more important to keep people's information private and not allow ISPs to sell that data or repressive regimes to block internet access? If you believe those are important goals then, one way or another, you have to encrypt DNS."
Asked whether reduced visibility into what people are doing online will prompt governments to push for pre-emptive controls that limit people's ability to defy local rules, Prince acknowledged that's a possibility.
"We are living through a time where more and more people are seeking ways to control the internet," he said, noting China treats the internet in a manner similar to the way the FCC treats the broadcast spectrum – as a medium that requires a license.
"There are proposals in many countries around the world to do something like that. I think that we should be very cognizant of what real challenges there are but we should be careful not to create overly broad restrictions that kill the great things that the internet has brought to the world." ®
Disclosure: The Register is a customer of Cloudflare.