Microsoft has crafted a thing called AI Builder, a visual tool to inject some degree of artificial intelligence into programs created using the tech giant's low-code application builder PowerApps.
PowerApps is part of a set of cloud services that Microsoft calls the Power Platform. The others in the set are Power BI, which provides business intelligence, and Microsoft Flow, for automating processes. The Power Platform is part of the Business Applications suite, which also includes Dynamics 365 (think software for CRM, marketing, service management, accounting, finance, and operations).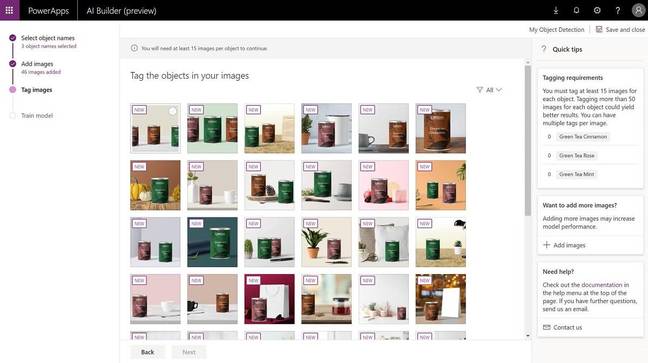 Using AI Builder to train image detection ... Click to enlarge
The new tool was previewed at the Microsoft Business Applications Summit under way this week in Atlanta, USA.
During the keynote, G&J Pepsi, which does bottling and distribution for Pepsi Cola, was wheeled out as an example use of the technology. The company's reps visit stores and have to count the stock of various lines. The fizzy-pop giant built a mobile application that is able to identify and count stock based on a photo taken in a shop. According to Microsoft, you can create this very kind of application yourself in AI Builder by defining product lines, and uploading some example pictures to train the AI. Next, you can use new controls in PowerApps to add the image analysis capability to a mobile application. You can also integrate it with Microsoft Flow, so that low stock could, for example, trigger an invitation to order more.
It sounds simplistic but could work if all the items are conveniently on view.
Another new service is PowerApps Portals, which lets you create customer portals with the same drag-and-drop app building model as PowerApps. "With these new capabilities, app makers can create a website from scratch using pre-built templates, and then customize the layout and content using components like forms, views, and dashboards," said James Phillips, Microsoft veep of business applications.
PowerApps and Microsoft Flow will now hook into the Azure Blockchain service for "attestable workflows," such as providing proof of origin and reducing fraud in the supply chain.
Building bridges
Low code is fashionable, and after spending years experimenting with different ways to reinvent Visual Basic for the cloud era (Visual Studio LightSwitch, Project Siena, Touch Develop, and more), Microsoft settled on PowerApps. It is a web-based tool for building web and mobile apps that tie into Redmond's Common Data Service, a way of querying and retrieving data from Dynamic 365 applications. PowerApps Portals also builds on the Common Data Service.
Power BI is getting a new look to match the Office 365 style, and new capabilities. Text and image analytics, previously in preview, are now generally available in Power BI. There are also new entity detection and handwriting recognition features, and new visualisations including Distribution Changes and Decomposition Tree. The ability to use natural language queries is being extended so you can add your own business-specific jargon.
Microsoft showed four Dynamics 365 solutions using augmented reality (AR) for sales and customer support. These are Remote Assist, Layout (for planning things like office spaces), Product Visualize for using AR on mobile devices for sales demos, and Guides, which uses HoloLens for on-site AR instructions.
Early access to these new features is planned for August 2, with general availability in October 2019.
Dynamics 365 has its quirks, as anyone who has used it in anger will know. The CRM product, for example, has plenty of cruft arising from its long history as an on-premises application. The various subscription plans seem expensive relative to Office 365, though the business has nevertheless been growing on the back of the success of Office 365. Power BI is a popular data visualisation tool, and Microsoft says more than 20PB of data is now ingested into Power BI every month.
PowerApps also seems to be catching on, with seven times annual growth in the number of production apps, Microsoft has claimed. Integration is the key, and provided Microsoft can keep businesses hooked on Office 365 and Azure Active Directory, it is well placed to promote these additional applications. That said, we are betting customers would like Microsoft to spend more time fixing long-standing irritations and complications in Dynamics CRM, than adding AI in PowerApps to, say, count bottles. ®