Enemy of the Matebook: Huawei shuts up laptop shop. When is it back? Depends on America's Entity List
They've got us on the list
---
Huawei has suspended the launch of the latest Matebook laptop ahead of sanctions being imposed by the US government that will block it from dealing with American suppliers.
Richard Yu, Huawei's consumer division CEO, told CNBC it had planned to formally unveil a new device in the range but admitted: "We cannot supply the PC", and described the situation as "unfortunate".
The original release date was not given by Huawei though it was expected to debut at the CES Asia show, which took place yesterday and today: 12 June.
Yu said that the ultimate launch "depends on how long the Entity List will be there" and conceded that should the President Trump "ban" run for a long time, then the new Matebook will not see light of day. Channel partners we spoke to told us the same thing.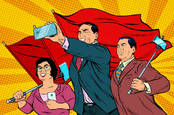 No Huawei out: Prez Trump's game of chicken with China has serious consequences
READ MORE
The Reg asked Huawei about the Matebook on Monday but a PR handler told us he had meant to reply to us yesterday but had "bigger fish to fry". Indeed he does. The PR handler went on to say that Yu's confirmation about the product delay was genuine.
The executive order signed in the US mid-May authorises the Secretary of Commerce to "prohibit transactions posing an unacceptable risk to the national security of the United States to the security and safety of United States person".
Huawei and around 70 affiliates are placed on the entity list meaning they cannot source supplies from American corporations or trade with those firms unless expressly authorised by the US administration.
That effective ban was itself postponed for 90 days to give Huawei the chance to buy supplies to maintain and repair products already on the market.
UK consumers might not be too bothered about getting their hands on the latest Matebook, sales are understood to be tiny compared to HP, Lenovo and Dell kit. According to Gartner, Huawei sold 600,000 laptops in 2018 worldwide, up from 300,000 in 2017.
Research director at Gartner, Ranjit Atwal, told us he was not surprised by Huawei's decision to delay and possible entirely shelve the new notebook, "given the circumstances they need to protect their core business".
He said the tech industry had entered a "Cold War" - Gartner is preparing to lower its device estimates for the year.
Trade tariffs, bans and Brexit have made the dark art of forecasting even darker. ®