A "highly skilled IT professional" has lost his fight to be paid his unused vacation days as well as a non-trivial bonus, after a judge stuck to a law he admitted was outdated.
Matthew White joined Hewlett-Packard in 2013 and left in July 2015, just months before the company split into HP and Hewlett Packard Enterprise (HPE). After quitting, he was stunned when the US mega-corp, citing HPE's new policies, refused to hand over extra pay he felt was contractually due.
Hewlett-Packard had enticed White with a sweet contract that offered a signing bonus, base salary, regular bonuses, and a benefits program. But after he quit, he was left without his unused vacation pay and a $10,000 bonus he felt he was entitled to.
He took the issue up with HPE, and sued the IT giant in a Maine federal district court. Things then spiraled to the point where even the judge felt the need to note it. In a footnote on the very first page of a summary judgment [PDF], issued yesterday, Judge D. Brock Hornby (which is, incidentally, a terrific name for a judge) despairs: "I have spent an inordinate amount of time deciphering the record as the parties presented it in their dueling statement of material fact… For the most part I have bypassed them…"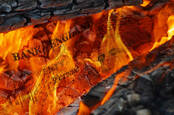 No 2017 bonus for you, HPE tells employees
READ MORE
White claimed that under the contract he signed with HP, he should have been paid for unused vacation time. HPE pointed to its new policy that if you leave, you don't get those days. Late in the court proceedings, which kicked off two years ago, White asked for a copy of the benefits policy when he joined – and HPE refused to provide it, making him even madder.
White then pointed to Maine law that states unused vacation is equivalent to paid time. However, the judge dug into the law and found that while US state law does say that unused vacation is equivalent to pay, it also defers to employee contracts. And on the provision of policy argument, the judge sided with HPE, arguing that it was White's fault that he didn't get hold of the original HP policy earlier on in the case if he wanted to prove his point.
"Summary judgment is not the time to litigate discovery issues; if HP failed to produce a document, White could have sought relief before the magistrate judge during discovery," Judge Hornby decided.
Renewal
As for the bonus: White said he was owed $10,000 in a bonus he earned through his work in 2014, however, HPE argued it had "not renewed" that bonus scheme in late 2014 so he wasn't entitled to any more money. This was news to White, who was sure the program was still in place. So he again asked for the relevant copies of the policies, and HPE again failed to provide them.
It turns out that HPE decided that, under the law, White could only get hold of the relevant policies if he turned up, in person, to the company's official human resources headquarters – which is on the other side of America in California, roughly 2,500 miles away.
White felt this was ridiculous given that HP, sorry, HPE is not only a massive organization with HR people all over the United States, but that it was a technology company with countless employees working across the world, often at home, and that the policies are likely readily available in an internal cloud.
The judge had some sympathy for that view. "This part of the statute may indeed need reworking for today's world where cloud-based digital records are replacing physical file folders located in a physical location, where employees work at home – sometimes remotely from any head office or regional office – and where worldwide companies like HP assign HP personnel for an entire country or region, or even outsource various HP responsibilities," wrote Hornby.
Yet the judge still decided against the techie.
And so it was a big No for White, and a big slap on the back for HPE, which managed to successfully hide behind outdated wording in order to stymie a former employee's efforts to prove his case for payment.
Yes folks, it's all love until you leave. A spokesperson for HPE declined to comment. ®