Western Digital is launching an open initiative called Zoned Storage to convince industry to develop standards and software for emerging types of high-capacity drives – thus feathering its own nest.
These drives include spinning rust with Shingled Magnetic Recording (SMR) technology – WD expects half of its HDD exabytes shipped will be on SMR by 2023 – and Zoned Name Spaces (ZNS) SSDs, expected in 2020.
Both SMR and ZNS change the way servers interact with storage, and require additional software not necessary for traditional drives.
SMR drives overlap the neighbouring magnetic tracks on top of each other, like shingles on a rooftop. This helps squeeze more data onto a single platter, but has a negative effect on performance as any information written to disk must first be rearranged in a sequence. This tech is not proprietary to WD – its arch-rival Seagate also ships SMR drives.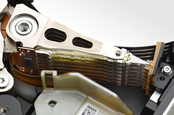 Shingled-minded Western Digital insists its latest hard drive sets disk capacity record
READ MORE
As for ZNS, it is a new, not fully ratified standard in NVMe that aligns "zones" in accordance with the internal physical properties of SSDs, eliminating inefficiencies in the placement of data and reducing DRAM use. Like SMR, this approach requires serialisation before data is written, and this needs to be done by the host system; data cannot be deleted from a zone – instead, the whole zone is deleted.
ZNS drives drop extra flash used for over-provisioning – as they don't expect frequent writes – making them cheaper. Besides WD, companies working on ZNS drives include SK Hynix.
Both of these storage technologies are variations on the same approach. They are aimed at hyperscalers and various cloud vendors, and are mostly suitable for data stored in large chunks – for example, high-definition video files.
Zoned Storage brings together open-source tools and information resources necessary for developers to interact with SMR and ZNS drives, hoping to create a single storage stack. WD's competitors are invited to participate – the aim here is to shift more novelty drives, and a rising tide lifts all boats. Broadcom, Mellanox and SUSE are already onboard.
Separately, WD demoed a 20TB SMR drive at a press event in Beijing, with expected shipment in 2020. ®