Japan drops banhammer on drunk-droning for the sake of public safety
Have you appointed your designated droner?
---
Everyone has a mate who won't stop droning after a few bevvies – and the Japanese government clearly thinks the activity is dangerous enough to be outlawed.
Today, among other restrictions clapped on UAV enthusiasts, the country approved penalties for anyone caught drink-droning with kit weighing more than 200g – including a year in the cooler and a fine of up to ¥300,000 (£2,200).
A transport ministry official told the AFP news agency that operating drones while under the influence is as dangerous as drunkenly zipping about in two-tonne metal steeds at high speeds.
You can see where they're coming from – even the most weedy plastic quadcopter still has four quickly rotating pain dealers. Being hit by one is going to hurt a lot, and the heavier drones could easily mete out far more gory injuries.
Stupid stunts – like diving at crowds – are also a big no-no under the legislation, the BBC reported, with fines of up to ¥500,000 (£3,600) dished out for offenders.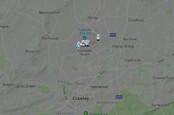 A few reasons why cops haven't immediately shot down London Gatwick airport drone menace
READ MORE
In fact, that's pretty much what happened in 2017, AFP said, when an "industrial-sized" drone that was "supposed to shower small children with sweets" at a "robot festival" in the city of Ogaki plummeted 10m (33 feet) to the ground and injured six people.
The rise of consumer drones has brought with it a whole fleet of headaches for governments across the world. New Jersey was already considering the risk of drunk-droners in late 2017, and the ban was made law in January the following year.
Last year, a bloke in Cambridgeshire became the first person convicted in the UK for reckless drone flying after dicking around beneath a police helicopter during a search operation.
Then there was the Gatwick saga of late 2018, where flights were grounded for a day after some idiot flew their device far too close to the airport – and we explored why police couldn't "just shoot the thing down".
The problem cropped up again at Heathrow early this year, then even got a stateside remake at Newark Liberty International Airport, again in New Jersey.
Blighty now wants to ban drone flights within three miles of airports.
The Civil Aviation Authority's website has an easy-to-follow guide on drone dos and don'ts here, and Japan's existing regs can be viewed here – but the law's fight against the pesky kit looks far from over. ®