This article is more than 1 year old
Atari finally launches its VCS console. Again.
You can now pre-order this underpowered, over-priced, untested, over-complicated toy. What are you waiting for?
After two years of delays and missed deadlines, Atari has announced at the E3 games conference this week that its VCS games console is finally available. For pre-order. Again.
The good news is that you don't have to pledge your hard-earned cash through Indiegogo this time, you can do so through Atari's own website as well as at Gamestop and Walmart.
Having twice missed launch dates of December 2017 and July 2019 – ie: next month – this time around the official launch date is March 2020. Although Atari is still not committing to that date, noting on its website: "All dates are good faith estimates and subject to change due to unforeseen circumstances."
The full specs are not yet available, although there is enough detail to be able to compare the Atari VCS with other games consoles and… it doesn't look good. The trouble is that the VCS can't decide what it wants to be. A retro reboot, like the mini NES and SNES, or PlayStation Classic? A proper machine, like a PlayStation 5?
Aside from the fact that Atari hasn't produced any hardware for some 20 years and only has access to its own back catalog of retro games, the VCS will offer the same specs as current games consoles at a time when the next generation of those consoles, with much higher specs, are due on the market.
The baseline model VCS is supposed to come with 4GB of RAM, 32GB of storage, an AMD Ryzen processor, an unspecified AMD Radeon graphics chipset, and will cost $250. It will provide 60 frames per second and 4K resolution. If you want an 8GB RAM box, the cost jumps to $280 and if you want Atari's controllers with it, an extra $110, ie: $390.
That is worse than the current specs of the Xbox One and the PlayStation 4 for the same price. But come 2020, the new PlayStation 5 and newly announced Xbox Project Scarlett will be on the market, offering 8K, 120FPS, more storage, and more RAM, at the very least.
As such it makes absolutely no sense to buy an Atari VCS. In fact, Atari's entire concept of its new console seem confused, to say the least. The machine will run its own custom operating system – Atari OS – based on Linux.
Apps!
Atari says that you "will be able to download your favorite home and entertainment apps, such as Redbox, Netflix, Vudu and more; with others to be announced and added post launch." But you will only be able to play Atari games on the supplied Atari OS.
Rather than do any of that, you could buy, say, Roku's highest-end streaming player for $100, an original Atari 2600 console for $75, and have a much better experience with $75 left over. Which presumably is why Atari is stressing that the new VCS console will also have a sandbox feature that allows you to boot another operating system on a USB stick, and run Windows, your favorite Linux distro, BSD, Chrome OS, etc. Once you have booted a completely different operating system, you should then be able to play games that have been developed in the past 30-odd years.
So, if you want to play, say, the new Halo Infinite game that was also announced at E3 this week, you can buy the Atari VCS, a storage drive with Windows on it and, if you use your existing games controllers, it will only cost you $290. Not including the cost of the game itself.
Or, you know, you could buy an Xbox One from $200. Likewise a PlayStation 4.
Whichever way you cut it, the Atari VCS makes absolutely no sense. The company is completely untested when it comes to hardware – and in fact Atari isn't a real company anymore, it's more of a marketing shell that owns Atari's intellectual property with a skeleton staff and no games expertise – so it's a virtual guarantee that the new VCS console will be buggy.
In a highly competitive market, Atari has decided to offer less, at a higher price, with less convenience than established names, and it won't even commit to a launch date.
Know thyself
The biz is even confused about its only market advantage: the Atari brand and styling. From its announcement this week: "The legendary brand is keenly focused at E3 on the things that set the Atari VCS apart from more established game consoles and the platform's performance capabilities while distancing the hardware from any lingering 'retro-box' impressions. Like the modern hardware that it lives on, the Atari VCS digital interface stands out with a striking and modern design, successfully taking inspiration from a vast and beloved heritage."
The console's design is specifically made to look like the Atari 2600 of old – which is pretty much the only exciting thing about this project. And yet, despite that, Atari itself says it is "distancing the hardware from any lingering 'retro-box' impressions" while not actually doing that. It's like shooting yourself in the foot and then claiming you meant to shoot yourself in the head.
There are, by the way, no screenshots yet of the Atari operating system so we'll take it with a pinch of salt that the user interface has a "striking and modern design."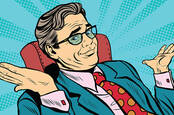 Atari accuses El Reg of professional trolling and making stuff up. Welp, here's the interview tape for you to decide...
READ MORE
Of course what Atari should have done when it first accidentally stumbled on the fact that there will still a lot of people out there willing to pay money for an Atari console, is what Nintendo did when it released a retro version of its classic NES console in 2016. It sold 1.5 million units for $60 a pop, and people loved it.
Had Atari simply recreated the beloved Atari 2600 and charged $100 for it, it could have created its own market retro market and made a tidy profit. If it had been smart, it could also have opened up its games and encouraged a new generation of gamers and coders to develop new games for the console: just look at the success of Roblox.
Instead what it's done is spunk $3m of its fans' money on developing an under-powered, out-dated, over-priced, over-complicated console that will please no one and go nowhere. But then it's not as if this has come as a big surprise. The warning signs were there from day one and our baffling interview with its chief operating officer over a year ago – something the manufacturer tried to pass off as trolling – should have told you all you needed to know. ®