Bonjour, mon chum! Québécois IT giant CGI snaps up freshly Irish Galileo botherer SCISYS
Splashes £78.9m on IP, space smarts and general boffinry
Canadian IT consulting giant CGI has settled its crosshairs on Brexit-dodging SCISYS, ponying up £78.9m in cold, hard cash to acquire the Dublin-based software 'n' services outfit.
The offer is worth 254.15 pence per share – a 24.6 per cent premium on yesterday's closing price and 47 per cent on the volume-weighted average closing price over the last 12 months.
Quebec-based CGI has already received irrevocable undertakings to vote in favour of the transaction from SCISYS directors representing approximately 25 per cent of the existing issued share capital.
Formerly registered in the UK, SCISYS shifted its holding company to Ireland to sidestep the impact of Brexit and continue to bid for EU-funded work. Operations (and taxes) remained in Blighty. At the time, the company reckoned the move would "protect shareholder value" and "mitigate the possible negative effects of Brexit on the Group's space business".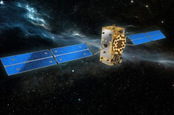 Galileo, Galileo, Galileo, off you go: Snout of UK space forcibly removed from EU satellite trough
READ MORE
The move appears to have paid off. In April, SCISYS announced it would be trousering €9.7m in orders for Galileo ground segment work from Thales Alenia Space France. Overall, the group boasted £58.4m in revenues for 2018, up 10 per cent from £53.2m in the previous year and bragged of its bulging order book, which stood at a record £98.6m.
Thirty-six per cent of those revenues came from SCISYS's space division, 34 per cent from Enterprise Solutions & Defence and the rest came in from "Media Solutions".
While CGI's 77,000 consultants and professionals dwarf the approximately 670 bods employed by SCISYS in the UK and Germany, the company's "industry-leading expertise and IP-based services and solutions" caught the eye of George Schindler, CGI president and CEO.
CGI itself has operated a "Build and Buy" strategy over the past four decades, completing 89 mergers since the company went public in 1986 and nine in the last two years alone. For the year ended 30 September 2018, CGI reported annual revenue of C$11.5bn (£6.8bn) and an order backlog of C$22.6bn (£13.4bn). £78.9m will therefore hardly break the bank.
SCISYS chairman Mike Love regarded the deal as "a wholesale endorsement of the success SCISYS has achieved to date". Other directors were doubtless whipping out the calculators to work out how much their approximately 25 per cent of the shares are worth. A final dividend of 1.73 pence per share will also be paid on 26 July 2019 to SCISYS shareholders.
Should all go well, the deal will close in second half of 2019. At time of writing, the price of a share in SCISYS had unsurprisingly leapt to 250 pence. ®