This article is more than 1 year old
Frontiersman Cray snags $50m storage contract for 'largest single filesystem'
Shasta minute: HPE purchase to provide 1 exabyte of ClusterStor for Oak Ridge National Laboratory
Cray has won a $50m-plus contract to provide 1 exabyte of ClusterStor storage for Oak Ridge National Laboratory's (ORNL) Frontier exascale supercomputer in the United States.
Frontier is a $600m-plus Cray-AMD exascale system, rated at up to 1.5 exaFLOPS, due to be delivered in 2021 with acceptance in 2022. It will be a follow-on to ORNL's 200 petaFLOPS Summit supercomputer.
Cray won the Frontier bid with its Shasta supercomputer, powered by AMD EPYC processors and Radeon Instinct GPUs in May, so the associated storage contract is not unexpected.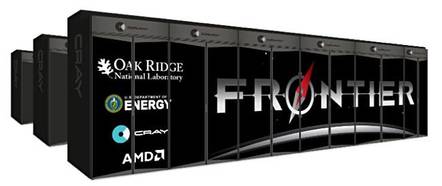 ORNL's Frontier
Cray is partnering with Intel for the Aurora A21 exascale supercomputer system at the US Department of Energy's Argonne National Laboratory and the resulting beast is expected to occupy more than 200 cabinets. The Frontier exascaler hulks less, with just a 100 or so cabinets.
It will have 1 exabyte of ClusterStor hybrid flash and disk storage in 40 cabinets with a direct Slingshot connection to the compute nodes. The ClusterStor nodes will run the Lustre parallel file system with ZFS local volumes all in POSIX-compliant global namespace. The system will output 10TB/sec, four times that of Summit's 2.5TB/sec Spectrum Scale storage.
Cray claimed it will be the largest single filesystem in the world. The flash will be used for high-speed scratch space with the disk being the capacity store. Files will be tiered between the two types of storage and the system is designed to cope with random, small file access and large file streaming. There will be a new software stack for tiering and improved manageability. It will help scaling across both compute and storage.
Researchers with DoE's Exascale Computing Project are developing exascale scientific applications on ORNL's Summit system and these will move readily to Frontier in 2021, Cray said. The lab's Center for Accelerated Application Readiness is accepting proposals from scientists to prepare their code to run on Frontier.
HPE is buying Cray for $1.3bn, with the deal expected to close in the first quarter of the tech juggernaut's fiscal 2020. This means HPE is now in the exascale computing race and will be supplying its own storage as well. Cray's announcement said its compute, software, storage and interconnect capabilities are being productised for HPC and enterprise customers, with expected availability starting at the end of 2019 – good news for HPE if customers buy in.
The Cray/Intel Aurora exaflopper is due in 2021, like Frontier. Japan's Arm-powered Post-K exascale system is also due then, and China's Tianhe-3 might appear in 2020.
The ATOS-supplied EU exascale computer for the European Processor Initiative is expected to ship its first systems in 2021, with 1 exaFLOPS Gen 2 GPP Cronos systems arriving in 2022-2023.
Meanwhile, the exascale El Capitan is due to spin up by 2023 at America's Lawrence Livermore National Laboratory. ®