Huawei's public relations onslaught continued today with a "panel discussion" between the company's founder Ren Zhenfei, blockchain blowhard George Gilder and MIT Media Lab co-founder and non-stop tech panellist Nicholas Negroponte.
It was a strange mixture of a terrible TED discussion and the outlining of a Communist Party Five-Year Plan.
The two aged futurists, before a backdrop of magnified library shelves, both took issue with recent US action against their gracious hosts at Huawei.
Negroponte described the issue as cultural rather than political, saying technological progress relies on collaboration as much as competition to benefit science and knowledge.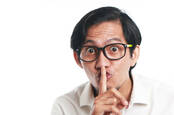 Hongmeng, there's no need to feel down: It's patently obvious this is Huawei's homegrown mobe OS
READ MORE
When asked what he made of the sabre-rattling, Ren said that his company recognised there would be competition when it reached a certain level but it did not occur to Huawei that the US government would take such extreme actions against it. Nor did it expect such a wide range of measures, not just against its suppliers but also in how it worked with organisations and universities.
Back to the bad old days of $100bn a year revenue...
Ren said revenues – which topped the $100bn mark for the first time in 2018 – be down about $30bn over the next two years, during which time Huawei will focus on strengthening itself.
He insisted that Huawei would continue to work with US firms, but other Chinese companies might be more nervous about doing so.
Catherine Chen, board director at Huawei, was also on the stage but didn't get much of a look-in. She said that the company had faced bigger challenges in its early days when it had no money and fewer staff.
Negroponte characterised the situation as Huawei's Sputnik moment – where the US changed course due to outside events.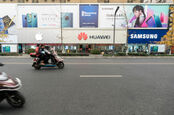 Huawei's elusive Mr Ren: We're just a 'sesame seed' in a superpower spat
READ MORE
Ren said he saw three categories of development and knowledge: theory, engineering and market-based products. He said China had proved itself to be good at engineering but not so much at theory – and China could learn research lessons from the West.
Huawei claims to have 80,000 R&D staff on the payroll, but said they had contributed to engineering rather than new inventions. The Chinese firm works with 300 universities and 900 other organisations where it inhales even more.
On security, Ren noted Huawei's promised $100bn investment in redesigning networking architecture to make it "simpler, faster and more secure". He said the current problems would not reduce R&D spending at the company. By problems, he meant the US placing the firm on its so-called Entity List, requiring American orgs to get export licences for any code or component deals with the Chinese firm. Huawei and its affiliates currently have a temporary reprieve until 19 August.
On the issue of backdoors – their potential presence cited as a reason for Huawei's placement on the list and, at least according to the US, for the pressure it is placing on other countries not to use Huawei kit – Gilder said the testing of networking equipment and software provided technical remedies to ensure security and that Huawei could contribute to fixing the internet's wider problems.
Negroponte noted that Donald Trump has already said that he would reconsider his administration's ban on the firm if China signed a trade deal, so the issue is clearly not really one of national security. He said "fingers crossed" that the trade war would end sooner rather than later.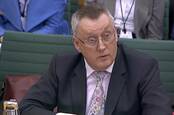 No backdoor, no backdoor... you're a backdoor! Huawei won't spy for China or anyone else, exec tells MPs
READ MORE
Ren said network security and information security were relative terms, and there will be potential vulnerabilities which would need to be addressed and likely increase as the information cloud grows. He claimed Huawei takes this responsibility seriously and has proved its networks are secure. The company would sign agreements with any country to ensure no backdoors in its kit, he added.
But he condemned "groundless speculation" and said "a country ruled by law has to follow the law".
Negroponte took the examples of flat-panel displays and video tape as US inventions which were then developed elsewhere because of a lack of long-term development and investment. He said the same thing happened in telecoms with government funding of MIT ending 20 years ago. He claimed Huawei's view beyond quarterly results allows better long-term thinking.
Gilder said the US would suffer from decoupling or a technology Cold War. Using the examples of Carnegie, Henry Ford and Thomas Edison, he said US entrepreneurship always flourished with collaboration, or straight stealing, from other countries. He said the current situation was the same – a technology incumbent in the US being challenged by an ascendant China.
Gilder blamed foreign currency trading as the major impetus to international trade and collaboration.
The whole discussion, almost two hours, is available here. ®
Similar topics