Adobe has unveiled Fresco, the new drawing and painting application – previously known as Project Gemini – that should be out later this year.
Project Gemini was announced in October 2018, the code name suggesting perhaps the "twinning" of features from Photoshop and Illustrator, which are, respectively, Adobe's bitmap and vector-based graphics products.
"We have completely rethought brushes and brush behaviour," said Kyle Webster, introducing the project at Adobe's Max conference last year. Webster is an illustrator who ran kylebrush.com, a site which created and distributed Photoshop brushes and was bought by Adobe in late 2017.
Fresco has three types of brushes: Photoshop or raster brushes, Illustrator or vector brushes, and a third type which Webster called "Natural media emulation brushes" but which are now known as Live Brushes.
The idea is that these brushes use software to simulate the behaviour of oils and watercolours, and when using these brushes you can see the virtual paint flow across the canvas in real time. One example is getting "wet-on-wet" effects with a watercolour brush, where the paint spreads into wet areas of the canvas.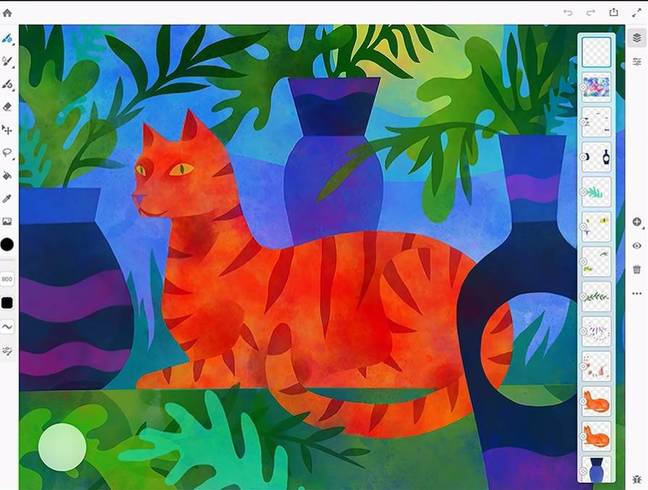 A preview of Adobe Fresco
Fresco can open Photoshop documents and you can do round-tripping – editing the same file back and forth in the two applications.
Notable is that Fresco is built first for Apple iPad, though "versions for other stylus and touch-based devices" are to follow, according to Adobe.
Adobe already offers Photoshop Sketch and Illustrator Draw on iOS and Android.
Microsoft may be disappointed by the lack of a Surface app at launch, since back in 2014 the companies were "collaborating to bring the full power of Creative Cloud to a mobile experience optimized for pen and touch".
There are a lot more iPads out there, though, and prioritising Apple's device is a smart choice, particularly in the light of recently announced improvements to iPadOS – not to mention that Surface can run the full versions of Photoshop and Illustrator.
There is still scope for an application optimised for touch and pen on Windows, and there is some hope for Surface users. Adobe's Sheena Kaul promised in November: "Regarding the Windows platform... Project Gemini will be available on Windows."
You can sign up for a Fresco preview here and general availability is expected later this year. ®