Samsung reminds rabble to scan smart TVs for viruses – then tries to make them forget
Tweet deleted as telly maker reconsiders damning but refreshingly honest messaging
Samsung on Sunday sent out a tweet urging people to check their Sammy smart TVs for viruses – and then deleted the message, as if someone realized that highlighting the risks posed by connected TVs may be bad for business.
The Twitter post, sent via the South Korean manufacturer's @SamsungSupport account, remains preserved for posterity thanks to the Internet Archive's Wayback Machine.
"Scanning your computer for malware viruses is important to keep it running smoothly," the message warned. "This also is true for your QLED TV if it's connected to Wi-Fi! Prevent malicious software attacks on your TV by scanning for viruses on your TV every few weeks. Here's how:"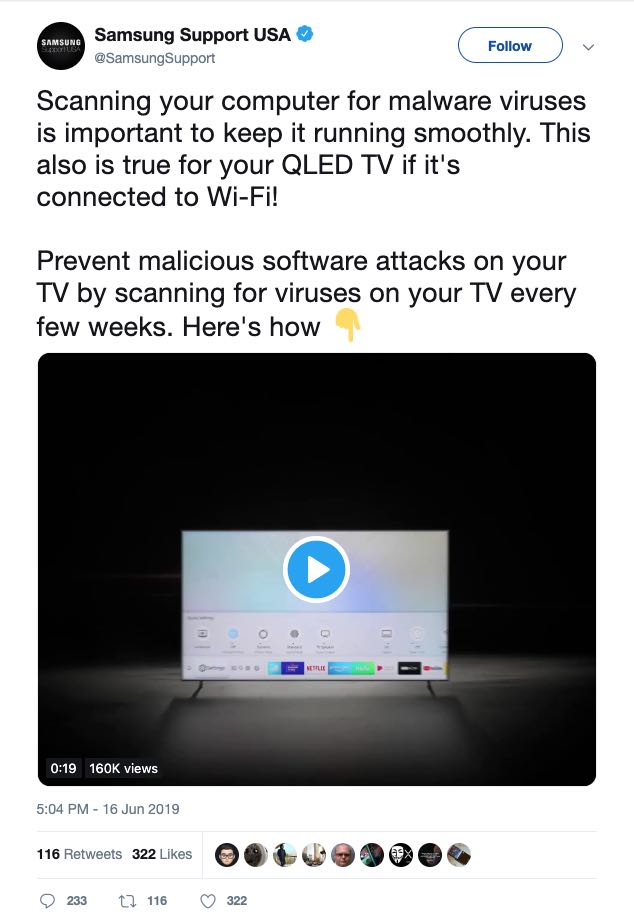 The Register asked Samsung to explain the sudden reversal. We've not heard back.
Infected TVs are not a novel concern. Security biz Symantec warned about attacks on smart TVs back in 2015. A 2016 Reddit post tells a similar tale.
In 2017, device maker Vizio agreed to pay $2.2m to settle charges brought by the US Federal Trade Commission and the Office of the New Jersey Attorney General that it installed software on its TVs that collected viewing habit data without informing customers or asking permission.
In 2018, Consumer Reports, working with Disconnect and Ranking Digital Rights, evaluated a number of smart TVs and found them lacking in terms of privacy protection and security. That same year, security biz McAfee pointed out a flaw affecting Belkin's Wemo Insight smart plugs that put appliances on the network, like smart TVs, at risk.
And earlier this month, Supra Smart Cloud TVs were found to be vulnerable to CVE-2019-12477, a remote file inclusion zero-day vulnerability that let individuals with local network access take over the video display.
These challenges show no sign of going away as the majority of tellies shipped today are so-called smart TVs. According to market research firm IHS Markit, smart TVs represented 70 per cent of all goggle-boxes shipped last year globally. That's up from less than 50 per cent in 2015.
Forty per cent of smart TVs shipped last year are running the Android operating system, which has been known to have the occasional security issue. And none of the other operating systems powering smart TVs have a better reputation.
Samsung should know by now that the first rule of IoT club is not to talk about the viruses. ®