This article is more than 1 year old
It's now officially the WhackBook Pro: If the keyboards weren't bad enough, now MacBook Pro batts are a fire risk
Apple issues voluntary recall for godforsaken laptops, again
Apple has urged its fans to stop using certain MacBook Pro models, and has issued a voluntary recall of the notebooks, after they were found to be prone to battery blazes.
The Cupertino idiot-tax operation said today that the battery packs in 15-inch MacBook Pro models made between September 2015 and February 2017 have a nasty tendency to get a bit too warm under the hood, potentially bursting into flames.
"Apple has determined that, in a limited number of older generation 15-inch MacBook Pro units, the battery may overheat and pose a fire safety risk," the maker of upscale cheese-graters said.
"Affected units were sold primarily between September 2015 and February 2017 and product eligibility is determined by the product serial number."
Long-suffering loyalists can check if their WhackBook Pros are covered by entering their serial number into Apple's support page. Those who fall under the recall will then be given more information on how they can get the fire-hazard battery swapped out for one that will hopefully be less likely to suddenly burst into flames.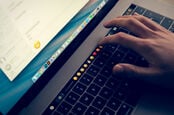 That magical super material Apple hopes will hit backspace on its keyboard woes? Nylon
READ MORE
"The recall does not affect any other 15-inch MacBook Pro units or other Mac notebooks," Cook and Co. said. "Because customer safety is a top priority, Apple is asking customers to stop using affected 15-inch MacBook Pro units."
Apple did not say if there have been any reports of fires or injuries as a result of the notebooks overheating.
For those keeping track, this will be the second time this generation of the MacBook Pro has been subject to a recall.
Last June, following months of complaints from customers and threats of litigation over the quality and reliability of the butterfly keyboard system in the MacBook Pro, Apple finally caved and agreed to issue a voluntary recall to replace the keyboards on notebooks made during the same 2015-2017 time period. ®