HPE downs Nimble-ful of HCI, lobs third hyperconverged system into its portfolio
The 'd' in dHCI is for 'disaggregated'
HPE has generated a third hyperconverged system from its acquired Nimble Storage tech, providing yet another ProLiant server route to market.
Not content with touting its SimpliVity line and doing a semi-detached dance with Nutanix in GreenLake, HPE has slung out a third hyperconverged system – the Nimble dHCI.
The product was announced at HPE Discover in Las Vegas this week and combines a fifth-gen Nimble array, running v5.1.2 or higher of the Nimble OS, Proliant gen 9 and 10 servers, and a network switch. Users can choose from StoreFabric 2100M, FlexFabric 5700 and Cisco Nexus 3000, 5000 and 9000 switches. The system is protected and supported through the cloud-based InfoSight software.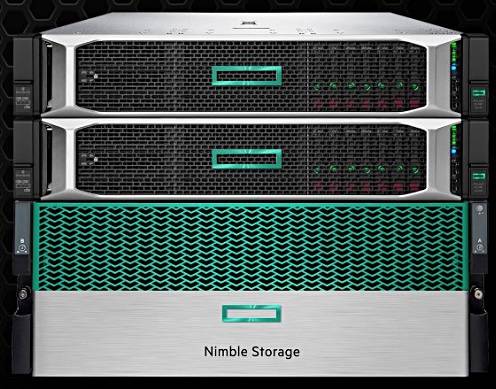 HPE Nimble dHCI system
Hyperconverged – really?
The "d" in dHCI stands for disaggregated and refers to this HCI system having a separate storage array integrated with servers, the NetApp Elements HCI model, instead of having local storage on each server combined into a virtual SAN. Datrium also espouses this separate storage pool idea.
Dell EMC's VxRail, VMware's VSAN, the Nutanix HCI products and HPE's own SimpliVity systems, as well as HCI products from Maxta, Pivot3 and Scale Computing, use the classic virtual SAN HCI model.
HPE, like NetApp, says the advantage of a disaggregated HCI is that storage and compute can scale independently. El Reg storage desk takes the view that the dHCI system is a converged system, like Dell EMC's VxBlocks and NetApp's FlexPods, with single system attributes coming from the business model, a single SKU, and software for managing and operating the system.
Beta test love-in
A beta tester, senior pre-sales architect Marc Bingham of Cristie Data, has written enthused about the highly automated and wizard-driven installation process of the system. The tested gear was built from 3 x Proliant DL360 servers, 2 x FlexFabric 5700 32GTX switches and a Nimble AF20 all flash array, pre-built and cabled into a standard HPE rack cabinet.
Bingham said the automated installation meant they went "from the box to a working virtualization platform in less than 2 hours", adding, "This process normally would take a professional service engineer at least two or three days minimum." That would be with the delivery and separate installation of the server, storage and switch components.
At Discover, HPE also updated the SimpliVity product set with a 325 box for the edge or remote office/branch office. This is 1U with AMD EPYC processors inside. The existing x86-powered 2U x 380 archive system was given 4TB drives and HPE said the 380 can centrally aggregate data from multiple edge boxes like the 325.
SimpliVity systems also became supported by InfoSight, which is turning into an HPE global storage, server and network switch oversight tool.
HPE HCI positioning
Basically, the SimpliVity range is for people who want an HCI system from HPE, and the Nutanix range is for customers who absolutely must have Nutanix HCI software on their ProLiant (or Apollo) servers. Nimble aficionados, who want HCI storage Nimble-style, can now have it their way too.
Want a Nimble and Nutanix combo? You're fresh out of luck.
Looking ahead, if HPE is now building converged infrastructure systems – for that, essentially, is what the dHCI is – then it could possibly move up the power/performance curve and do the same thing with 3PAR and even Primera. ®