This article is more than 1 year old
Bloody vultures! Cheeky Spanish paraglider firm pinched El Reg's mascot
Dios mío, eso es nuestro buitre!
An, er, eagle-eyed Reg reader holidaying in Spain has spotted an uncanny resemblance between this organ's beloved mascot and an equally vulturine logo being used by a peninsular paragliding concern.
Urubu Parapente, which offers paragliding holidays in Andalusia, has entirely coincidentally appropriated our masthead. Admittedly, its logo is rendered in a sickly green, possibly a reaction to taking one of its flights.
Urubu – Portuguese for black vulture, English for light-fingered logo lifter.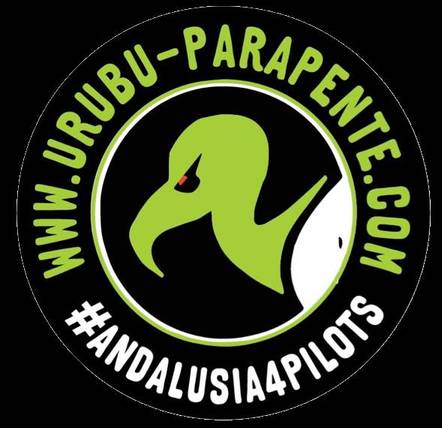 Click to enlarge
We emailed the paragliding pirates and got a fast and somewhat frightened phone call in return.
Vlad Guillaume, originally from Belgium, set up the company with his girlfriend a year ago and swore blind he'd never seen The Reg's vulture logo.
The pair asked a Sevillian student designer and fellow sky jockey to knock them up a logo, which included a vulture because they often fly with them in early autumn.
Vultures flock to southern Spain and can be seen circling on thermals near the coast in order to gain enough height to cross the Mediterranean into Africa. Vlad was deeply apologetic and has promised us a free T-shirt if we call off the legal eagles.
One of The Register's disgruntled supremos said: "I didn't bloody pay that graphic designer several pounds so some unwashed outdoors type could steal it." (No he didn't.)
Cheers to our reader for the spot.
Urubu's site is here if you fancy a glide or some bootlegged merch. ®