IDC has clipped 2019 sales forecasts for the infrastructure kit used to power hyperscalers' cloud services – the one area of the market that helped to prop up old world vendors' hardware revenues.
Wafting away the earlier 6.1 per cent growth estimate, the boxcounters lowered their growth projection to a rather more modest year-on-year uptick of 1.6 per cent to $66.9bn.
This is more of a reflection on the state of the overall IT market than any weakness in the cloud model. Sales of servers, storage and switches used to run public and private clouds overtook traditional IT for the first time in the third quarter of 2018.
According to IDC, in Q1 '19 the cloud sector generated $14.5bn of revenue for enterprise hardware makers, up 11.4 per cent year-on-year.
Of this total, $9.8bn was down to public cloud – up 8.9 per cent year on year. This section of the market is at the whim of hyperscalers, and analysts predict that in 2019, overall revenue from public cloud infrastructure sales will drop 2.2 per cent year-on-year to $44.5bn.
Revenue from private cloud gear in the first quarter increased 16.9 per cent year on year to $4.7bn, and IDC expects that this category will grow 10.1 per cent year-on-year in 2019; this would make for an overall revenue split of 66.5 per cent public, and 33.5 per cent private.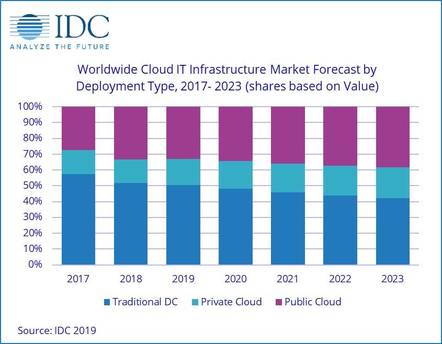 Cloud spend gradually nomming traditional IT (click to enlarge)
"As the overall IT infrastructure goes through a period of slowdown after an outstanding 2018, the important trends might look somewhat distorted in the short term," said Natalya Yezhkova, research veep for infrastructure systems, platforms and technologies at IDC.
"IDC's long-term expectations strongly back continuous growth of cloud IT infrastructure environments."
In terms of types of cloud hardware, vendor revenue from Ethernet switches is predicted to increase 20.9 per cent year on year in 2019, and storage 1.9 per cent, but the firm expects a slow year for compute platforms – revenue down 2.8 per cent year-on-year. Compute still swallows the most spending in cloud IT kit land, at $34.2bn.
In terms of top cloud-powering hardware vendors (chart here), Dell Technologies made $2.5bn from the cloud in the first quarter, giving it a market share of 18.8 per cent. Up next was HPE - which recently entered a joint venture with New H3C Group – with $1.7bn and a 12 per cent market share. In third spot was Cisco with $1bn and 7.2 per cent of the cloud hardware market. In the fourth and fifth were Lenovo ($647m) and Inspur ($641m).
A total of $4.46bn worth of kit was purchased from original design manufacturers – this means white boxes are currently responsible for around 30.7 per cent of all revenue made from cloud hardware.
Long term, IDC expects spending on cloud IT infrastructure to swell at a five-year compound annual growth rate of 7.5 per cent, reaching $94.5bn in 2023 and accounting for 57.6 per cent of total IT infrastructure spend. ®