This article is more than 1 year old
Hello Moto! UK Home Office shoves comms giant another £82m to stay on Emergency Services Network gig
More delays ahead for troubled programme
The UK Home Office has extended its Emergency Services Network contract with Motorola, intended to shift blue-light services to 4G.
The move signals further delays to an already troubled programme.
In the contract award notice published this week, the department said it was extending the deal until December 2024. That will run one year later than previously intended at an additional cost of £82m, totalling £401m.
Under the new deal, the programme will adopt Motorola's off-the-shelf Kodiak product to provide the "push-to-talk" application on devices to work on the ESN.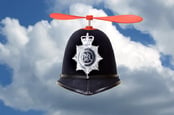 Home Office cops an earful for emergency network feck-ups - £3bn overbudget and 3 years late
READ MORE
The department said in its notice: "There is no reasonable alternative to procuring these services from Motorola: the Home Office's assessment is that, were it to use a different provider for all of these services, full rollout would be delayed by approximately five years."
It added that such a delay would cost a further £2.6bn in termination costs.
The notice continued: "The Home Office needs to secure delivery of an ESN solution as early as it reasonably can, both to avoid high ongoing costs of the Airwave service which ESN will replace; and to provide end users with more modern and advanced functionality.
"The Home Office considers this variation represents the best option for securing delivery as early as possible."
As well as owning the legacy Airwave radio service, Motorola is also one of the prime contractors on the ESN contract, providing user services.
Originally, the entire programme was supposed to replace the Motorola-owned Airwave radio service with a £1.2bn 4G Emergency Services Network (ESN) run by EE, turning off the previous network by 31 December 2019.
Last year that deadline was extended another three years to 2022.
Last month a National Audit Office report warned that the ESN is likely to be at least three years late and £3bn over budget. ®