This article is more than 1 year old
Mayday, mayday. Cray, you cray cray: Investor attempts to halt HPE's $1.3bn biz gobble
Accuses both companies of withholding essential information, claims multiple conflicts of interest
A cray cray Cray investor is attempting to scupper the supercomputer builder's pending $1.3bn acquisition by HPE, by proposing a class-action lawsuit.
Russell Davie reckons Cray broke America's finance laws in providing a "materially incomplete and misleading" preliminary proxy statement to the Securities and Exchange Commission that omitted crucial financial projections prepared by the manufacturer's management – that's the statement that recommends Cray stockholders vote in favor of the deal.
He further alleges that the takeover is "tainted by significant conflicts of interest," like the fact that under the terms of the deal, Cray CEO Peter Ungaro will get a job at HPE, where he could earn at least $10 million over the next three years.
Another fly in the ointment is the fact that Morgan Stanley, which advised Cray on the deal, is a lender to HPE, so it is alleged to have a vested interest in a transaction expected to benefit HPE. And finally, Davie is unhappy with the fact that the merger agreement contains constrictive provisions that prevent another bidder from coming forward, potentially precluding better offers.
Davie's legal paperwork was submitted, on behalf of all of Cray's public stockholders, to a US federal distract court in Delaware late last week.
Pipeline
HPE wants to buy the venerable super 'puter builder for $1.3bn, at a time when Cray is not making any money: Cray expects considerable losses in fiscal 2019. At the same time, the biz has a pipeline of major upcoming projects: it has been contracted to deliver the $146m Perlmutter supercomputer to the US Department of Energy's National Energy Research Scientific Computing Center (NERSC), and one of the first exascale machines, the $500m Aurora, for the DoE's Argonne National Laboratory.
Cray employs around 1,300 people, we're told. It has headquarters in Seattle, and assembles its machines in the US.
The deal was expected to close by the first quarter of HPE's fiscal year 2020, however, Davie is trying to stop the proceedings until a more accurate proxy statement can be produced. As an alternative, he and other potential class action participants would settle for damages "resulting from the defendants' violations."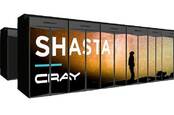 Cray will realise 'substantial' loss. But Shasta minute, folks, big iron market will pick up
READ MORE
Some of the most interesting allegations in the proposed lawsuit involve Ungaro: according to the filing, the CEO started talking to HPE about employment opportunities a week before the merger agreement was executed, and negotiated a cushy raise of 11 percent and a package of restricted stock worth $10 million.
"Thus, defendant Ungaro will have an investment in the combined company, while Cray stockholders lose their investment in the company," Davie complained. "Any such discussions would provide a powerful incentive for defendant Ungaro to steer the Board to a transaction with HPE."
It's worth noting that pretty much every time a company tries to acquire another organization, and either or both are publicly listed, at least one shareholder lawsuit will pop up. A spokesperson for Cray was not available for immediate comment.
"The allegations are without merit and we intend to vigorously make that case in court," a spokesman for HPE told The Register on Monday. ®