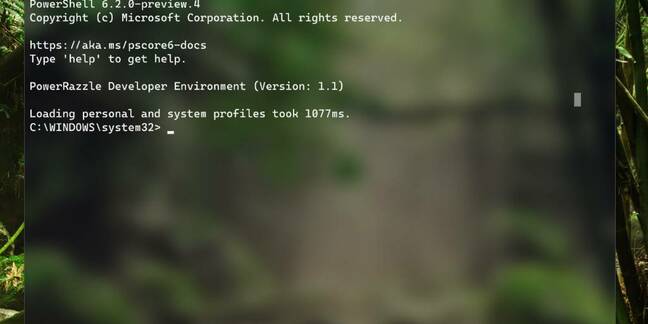 Windows 10 19H2 may still be MIA, but Azure is alive and well in the UAE.
It's true: The Microsoft Store is Terminal
While the Windows Insider team continues to be confused with regard to what actually constitutes Summer, the Terminal team made good on a promise to deliver a version of Microsoft's newly open-sourced command line interface before June was out.
To be fair, since its announcement during Microsoft's May developer shindig, Build, the source has been available to all willing to have a crack at compiling the thing (along with jumping through the hoops necessary to make it work, one of which involved saying "Rich Turner" three times in front of a mirror.)
Last week saw the team deposit a very early release of the preview of the application into the Microsoft Store.
If Command Line Interfaces in Windows are your thing, the new Windows Terminal will be of great interest. The ability to have multiple tabs for the likes of PowerShell, Windows Subsystem for Linux and a good, old fashioned, Windows command prompt, makes it worth the price of admission itself.
Decent Unicode and UTF-8 character support are present as well as a "GPU accelerated text rendering engine". We remember the days when you'd use text mode precisely because you lacked the horsepower for something more graphical, but here we are.
The preview nature of the thing is evident in the way the gang expect users to customise it. Yes, pretty much any aspect of the interface can be tinkered with (including a different background image for each profile) but you'll need to be happy editing a .JSON file to do so.
But then if you are that keen to get your hands on the latest and greatest Windows Terminal, then a little text editing is unlikely to hold much in the way of fear.
The full version 1.0 should hit the Microsoft Store this winter. Or Spring, in Microsoft season-speak.
Windows Update goes ML
While Microsoft is no longer forcing users of supported versions of Windows 10 to update, when the end of life date looms, lucky PCs will be due an automatic update.
With the April 2018 Update (1803) getting closer to its natural end on 12 November 2019, Microsoft has announced that machines running what is still the most popular version of Windows 10 will soon be on the receiving end of an update. It being Microsoft, the roll-out process is based on Machine Learning (although the Windows Update team has stopped short of slapping the AI moniker on things.)
Users can, of course, still simply click "Check for Updates" to get the latest and greatest and Microsoft has confirmed that Windows 10 is available for all those that want it unless the team has slapped a "safeguard hold" on their configurations.
Others, of course, can opt to defer these feature updates although Microsoft warns that "Home edition does not support the deferral of feature updates and will therefore typically receive a new version of Windows 10 prior to the end-of-service date shown."
Azure Backup for SQL Server 2008
The end of extended support for SQL Server 2008 R2 is fast approaching. The axe actually comes down next month, on 9 July for those keeping track.
In an effort to give organisations more time to migrate / get locked into Azure, Microsoft threw administrators a lifeline of three more years of security updates if they moved their legacy platforms into the company's cloud.
While a simple lift-and-shift of an on-premises SQL Server was straightforward enough, shunting across the all-important back-up infrastructure could be costly. Somewhat belatedly, the gang has realised that users moving their SQL Server 2008 R2 workloads to Azure will, of course, need to back things up and so MS has tweaked Azure Backup for that purpose in preview form.
Azure Backup was already available for use with SQL Server 2012 and later. The preview adds SQL Server 2008 and 2008 R2 into the mix.
Interested administrators will need to take a hard look at Azure Backup's capabilities and compare them to what they already have. Two backups per day are permitted to the Azure Recovery Services Vault and once every 15 minutes to disk. There may be up to 9,999 recovery points, meaning a daily recovery point would see retention going on for 27 years. Monthly would make for 833 years. For a fee, of course.
Azure goes big in the Middle East
Microsoft has fired up its first cloud regions in the Middle East with Azure and Office 365 now generally available and Dynamics 365 and the Power Platform following by the end of the year from its United Arab Emirates (UAE) cloud data centres.
The regions in Abu Dhabi and Dubai deal with concerns locals might have had about data residency, security and compliance. The company was also quick to trumpet its achievement of the Dubai Electronic Security Center certification for its cloud services
Microsoft has already invested heavily in the region. It, and former best buddy Huawei, saw Azure Stack launched by Ankabut, the United Arab Emirates' Advanced National Research and Education Network (NREN) last year. These days of course, Microsoft doesn't like to talk about Huawei quite so much.
While some within the walls of Redmond might be put off by the more extreme antics of the UAE regime regarding the rights of the LGBT community, others will wave a nonchalant hand at the whole human rights thing.
After all, the company has beaten arch-rival AWS to the punch.
Amazon's own Middle East (Bahrain) region, replete with three availability zones, won't hit until later this year. ®
Sponsored: Ransomware has gone nuclear