The Great IoT Protocol War may have been won: Thread's 1.2 release aims at business
Meanwhile in the home, it's all Google, Amazon, Apple…
Analysis The smart home and internet-of-things market has long suffered from a plethora of protocols and standards: from X10 and ZigBee, to LightwaveRF, Z-Wave, Bluetooth, HomeKit, Weave, and Brillo. This month, however, we may finally have found a winner. Or, at least, a co-winner.
Thread version 1.2 [PDF] was just released, and contains solutions for the two biggest issues right now with IoT networks: scalability, and the simple and secure addition of nodes ad devices.
Thread was initially designed by Google-owned Nest along with Samsung and Arm as a way to connect low-power devices while working seamlessly with IP networks.
Two years later, under pressure from competitors like the Allseen Alliance aka AllJoyn and the Open Connectivity Foundation (OCF) IoTivity, Google decided to open source Thread. And then interoperate with OCF. As a result more and more companies – including control-freak Apple – have got on board the Thread train.
The release of Thread 1.2 (which could easily have been pitched as Thread 2.0) appears to have consolidated those wins and, coinciding with the release, smart home specialist Lutron joined The Thread Group.
Those two events may help solidify it as the de facto protocol, with everything else choosing to work with it rather than try to crowd it out. The 1.2 notation is most likely there to make another critical aspect clear: it is backwards compatible with the previous Thread protocol generations.
Dining with Bluetooth
A key factor in Thread's likely future success is its embrace of another other key standard – Bluetooth Low Energy (BLE). Bluetooth is a potential threat to Thread, especially with its overlords' efforts to expand it into a networking meshing standard. The Thread Group has wisely acknowledged that BLE is a crucial standard for building and administering networks of physical sensors and devices, because pretty much everything has Bluetooth built in.
Thread 1.2 contains "optional" BLE Extensions that will allow it to work with the protocol and that means the ability to add BLE devices – most notably smartphones – to an existing Thread network without compromising security. The connection will make Bluetooth devices a native part of the network rather than tacked on through some coding fudge.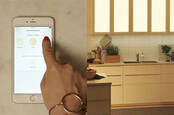 Cheap, flimsy, breakable and replaceable – yup, Ikea, you'll be right at home in the IoT world
READ MORE
One of Thread 1.1's biggest constraints was its 350-node limit. That was fine for a home or even a small office, and a major headache for anything larger. Thread 1.2 will allow those multiple networks to be combined into a virtual network, which makes administration simpler and more efficient.
The new protocol has also tweaked how data exchange works so gizmos and sensors will transmit less network control traffic, which means less power will be used and so battery life should jump. It's calling the new features Enhanced Frame Pending (EFP) and Coordinated Sampled Listening (CSL).
Thread claims this tweak has "a dramatic effect on battery life" – which is frustratingly vague but still worth noting. What percentage do you imagine the word "dramatic" encompasses? In a quick Reg USA office poll, we reckon that should mean between 20 and 30 per cent. We shall see.
Thread also claims that the new version of the protocol will work seamlessly with a wide range of devices and thus form single networks of disparate gadgets – some plugged into the mains, some on batteries; some putting out a lot of data and needing a lot of bandwidth; others only transmitting state changes – a practical reality.
"Connected IoT devices in home and buildings have widely different requirements that determine their data processing, power consumption, and connectivity characteristics," it said in its 16-page rundown [PDF] of version 1.2. "[New] protocol enhancements… easily interconnect IoT devices with such diverse characteristics either to each other or to local or remote servers."
The old IP
And, of course, the main reason that Thread has become popular in the first place: it is written to work with IP technologies, particularly IPv6. So it becomes possible to tap into the vast amount of technology and knowledge built around modern networks, leading to all kinds of future services and applications delivered in a standard and expected way.
In short, it means sysadmins don't have to learn an entirely new way of doing thing just to get an IoT network up and running.
The Thread Group is pleased with itself, with its president saying in a canned statement: "No one has deployed an IP-based, secure and low-power wireless networking protocol with the same level of scale and functionality as the Thread 1.2 Networking Protocol. Not only can Thread 1.2 seamlessly integrate with other IP-based networking technologies, it has far lower power requirements relative to comparable solutions, thus improving the battery life of IoT devices."
And, to be fair, that does seem like a fair description. We may finally have a winner.
As to what happens in the smart home market, well that's all still up for grabs. Thanks to the world we increasingly live in as consumers, where a few tech giants dominate and try to drag everyone into their own ecosystems, it looks as though we will be looking at a three-way fight between Google/Nest, Amazon Alexa/Ring and Apple HomeKit, with each company trying its best not to work with the others. ®