A digital or "smart" solution to the Irish border problem is possible in the next three years if Europe agrees to a Brexit transition period, the "Alternative Arrangements Commission" Technical Panel has told MPs.
Speaking to the Northern Ireland Affairs Committee, Shanker Singham, chair of the Prosperity UK thinktank-backed panel and a trade lawyer, said he wished the government had commissioned the group to start work on the problem two-and-a-half years ago.
But he said if the EU agrees to a transition period of three years, a solution will be "achievable in the time period."
Frank Dunsmuir, member of the panel and industry lead for customs and border at Fujitsu, said the group has been looking into options as to how technology can create an "invisible, digital or smart border."
The firm has reportedly already pitched an artificial intelligence-driven process that analyses drivers' journeys and even social media posts.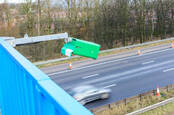 Fujitsu pitched stalker-y AI that can read your social media posts as solution to Irish border, apparently
READ MORE
As there are 300 crossing points across the 499km line between Northern Ireland and the Republic - which, in some cases, divides villages - physical infrastructure would also be difficult to implement, MPs were told.
The hearing follows an interim report (PDF) published by the Alternative Arrangements Commission this week, intended to develop detailed proposals to avoid physical infrastructure at the border in order to help uphold the Good Friday agreement.
The 104-page report said: "New technology has a role to support policy, but any technology suggested for deployment in the first instance should already be in use elsewhere."
Indeed, British Chancellor Philip Hammond had previously said: "There is technology becoming available... I don't claim to be an expert on it but the most obvious technology is blockchain."
Proposals so far put forward include an identification system by the border using either a mobile phone network or Radio Frequency Identification (RFID) to enable goods or driver ID to be checked without the need for people to leave a vehicle.
The report also recommended automated processing of transit documents, replacing today's physical scanning of documents at border transit offices with digital border-crossing technology, which again requires no border infrastructure.
On the security front, it suggested "supporting a strategic move away from physical, border controls, to the concept of intelligence-led market surveillance through the use of advanced analytics to enable inspection at locations away from the border."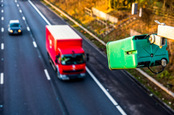 Drugs, vodka, Volvo: The Scandinavian answer to Britain's future new border
READ MORE
However, the report also noted that UK government border agencies are "in the process of reviewing and updating IT existing systems in preparation for the UK's exit of the EU", adding the report does not cover the status of these exit readiness programmes.
HMRC has said its preparations for a Northern Ireland backstop could take up to 30 months – once Whitehall has said how the mechanism will work.
Meanwhile half of the Department for Environment, Food & Rural Affairs' projects for the exit involve IT in some way. For its no-deal planning, Defra is developing six key IT systems, of which only two have gone live. The remaining four are still being tested.
Multiple government departments updating and de-coupling IT systems from decades of EU policy to a deadline not yet determined: what could possibly go wrong there? ®