This article is more than 1 year old
DeepNude deep-nuked: AI photo app stripped clothes from women to render them naked. Now, it's stripped from web
Our 'X-ray specs' software can be misused? And everyone wants it? Oh no, who'd have thought, say creators
A machine-learning-powered perv super-tool that automagically removed clothes from women in photos to make them appear naked has been torn offline by its makers.
The shamefaced creators of the $50 Windows and Linux desktop app DeepNude claimed they were overwhelmed by demand from internet creeps: the developers' servers apparently buckled under a stampede of downloads, their buggy software generated more crash reports than they could deal with, and this all came amid a firestorm of social media outrage.
Color us shocked. What do you think would happen when you train a neural network to, in mere seconds, create fake naked images of women – and chiefly women, it doesn't work properly on men – and release it for the world's weirdos to use?
Basement dwellers and trolls could feed it snaps of celebrities, colleagues, ex-girlfriends, and anyone else who takes their fancy, and have the software guess, somewhat badly, what they look like underneath their clothes, keeping their faces intact. These bogus nudes are perfect for distributing around the 'net to humiliate victims.
There was so much interest in this misogynistic piece of crap that the site's servers couldn't handle the traffic and crashed, it is claimed. The team initially said on Thursday they were trying to fix bugs, and expected everything to be up and running again in a few days:
Hi! DeepNude is offline. Why? Because we did not expect these visits and our servers need reinforcement. We are a small team. We need to fix some bugs and catch our breath. We are working to make DeepNude stable and working. We will be back online soon in a few days.

— deepnudeapp (@deepnudeapp) June 27, 2019
Shortly after that message, they changed their tune. Instead of trying to bring it back online, the developers decided to pull the plug on deepnude.com completely, kill off distribution of the code, and hope the scandal just goes away.
"The world is not yet ready for DeepNude," the team, based in Estonia, said on Thursday. Or rather, quite likely, the team wasn't ready for all the criticism and rage lobbed its way on Twitter, Facebook, and elsewhere, as a result of its work.
The gang also tried to pass off the whole thing as a joke, and just a silly app for friends that wasn't supposed to go viral, though that argument is at odds with the $50 price tag. Here's the announcement of the sudden end of DeepNude:
June 27, 2019
The DeepNude app follows in the footsteps of deepfakeapp, a machine-learning-powered application that could paste anyone's face over the faces of actresses in porno flicks, thereby placing strangers into hardcore X-rated movies, which was released last year. That software sparked so much outcry, US lawmakers organised a hearing to investigate the effects of deep-learning-faked material.
You might not be able to download DeepNude anymore, but it can still be used
The DeepNude website and app went viral after it was first reported by Vice's Samantha Cole earlier this week. There's nothing to see on the dot-com right now, though. Below is a screenshot we managed to grab before it all disappeared. "DeepNude is an offline automated software that transforms photos, creating fake nude," the webpage originally boasted.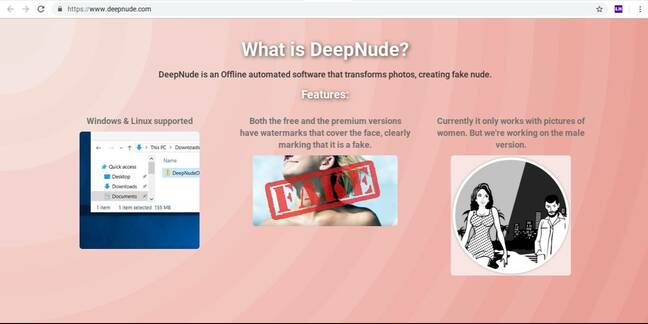 What the DeepNude website looked like ... Click to enlarge
The AI-based app was built for Windows 10 and Linux, and could utilize GPUs as well as CPU cores to generate its fake nude images of women from submitted clothed pictures. There was a free version and a premium $50 version available download. Both neural networks slapped a watermark in the corner of their output images to show that the snaps were fake, and how they were created. It could easily be removed by image editing tools such as Photoshop or GIMP. The premium version created images that have a less obvious watermark than the free version.
The website was set up in March, with the first 100 people who signed up for an account offered free downloads, and the first desktop versions of the code emerged on June 23.
The site apparently struggled to process credit card payments under the strain of demand. Paying in cryptocurrencies worked for a little while longer, however, until that system collapsed, too.
Now that the project has been scrapped completely, the DeepNude app can no longer be downloaded. Any netizens who paid for the premium version but have yet to activate it will not be given access to it, and will be refunded.
The wretched tool hasn't completely disappeared, of course. Anyone who managed to obtain a working copy of the software can still use it to whatever ends they want. The creators have urged people to not share the program.
However, it's all too late: the genie is well and truly out of the bottle. It is only a matter of time before someone makes and distributes a clone of the software. ®