This article is more than 1 year old
You know whose kit for 5G is Huawei better? Go on, have a guess, says UK mobile player Three
Warns deployment will go up spout if UK.gov pulls plug on controversial supplier
Huawei has the most advanced tech for 5G deployment, Three's director of network strategy has said - ahead of the government's pending review into the controversial supplier's UK telecoms footprint.
Speaking to The Register, Phil Sheppard said the commercial roll-out of 5G is "imminent".
He said: "In order [for us] to launch 5G this year, they are the most advanced company. They have the technology available now - and most of the other vendors are behind."
Three - a subsidiary of Hong Kong giant CK Hutchison Holdings - uses Nokia in its core network and Huawei within its radio access network – as per the guidance of the UK's National Cyber Security Centre.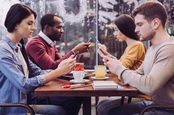 Vodafone urges UK.gov to get on with it and conclude review into Huawei
READ MORE
"We did go through quite a comprehensive process evaluating them. We talked to NCSC and got advice of what was good and what wasn't and they were selected on that basis."
Echoing the concerns of Vodafone's CTO Scott Petty, he said Three would also like to see a conclusion the government's delayed Telecoms Supply Chain Review.
"We are all on the same page to be honest. We want to see it come to a conclusion. Because we have been working on the 5G launch for quite some time - and will see it starting to launch this year on Huawei technology. So we're all keen to know what the situation is."
He added: "We will follow the guidance, but it is a matter of needing to know… [It seems] we are waiting for a political decision, rather than a technical one."
By the end of the year Three has said its 5G network will be available in 25 towns across the UK — including London, Cardiff, Glasgow, Birmingham, Manchester, and Liverpool.
EE's network is already live in six cities across the UK, while Vodafone's 5G network is set to launch next month.
Three had previously moaned it did not have enough 4G spectrum - however since its acquisitions of UK Broadband, it appears to be well placed to deploy 5G.
The firm claims its 5G network will be twice as fast as its competitors as the firm has 140MHz of 5G spectrum.
"Vodafone has 50MHz and the other two have 40MHz. So we have more speed and more capacity," said Sheppard.
But whether consumers will be convinced that 5G is worth forking out more for, remains to be seen. ®