This article is more than 1 year old
IVE HAD ENOUGH! iQuit. Jobs done. Jony cashes out at Apple to run his own design biz
Do my Ive's deceive me? No, Sir Jony exits Cupertino, which will be among his first clients
British Essex boy made good Sir Jony Ive will step down from his role as Apple's chief designer.
Widely considered the most important figure at Apple not to be called Steve, magical Ive has been credited with sculpting the iconic, er, rounded corners and other motifs of the iMac, iPod, iPhone, and just about everything else bearing an Apple logo since the mid-1990s.
In a surprise announcement today, though, he said he will quit to run his own design company: the non-magically named LoveFrom.
Following the death of cofounder Steve Jobs, Ive took an even larger role in crafting new Apple products. He also played a pivotal role in Apple's new Silicon Valley "spaceship" headquarters.
Though not in-house, Ive will continue to work with Apple as the Cupertino giant will be among the debut clients for his new design company, due to work on wearable and other gizmos from 2020 onwards in California. Ive will formally leave Apple later this year. CEO Tim Cook vowed Sir Jony, who joined Apple in 1992, would remain involved in the design of its products.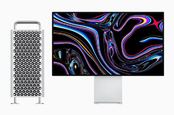 Apple kills iTunes, preps pricey Mac Pro, gives iPad its own OS – plus: That $999 monitor stand
READ MORE
"Apple will continue to benefit from Jony's talents by working directly with him on exclusive projects, and through the ongoing work of the brilliant and passionate design team he has built," Cook said in announcing the departure today.
"After so many years working closely together, I'm happy that our relationship continues to evolve and I look forward to working with Jony long into the future."
Meanwhile, Sir Jony will be replaced within Apple by industrial design VP Evans Hankey and human interface design VP Alan Dye. Both will report to COO Jeff Williams.
In his departing statement, magical Ive had the class to big up his replacements.
"After nearly 30 years and countless projects, I am most proud of the lasting work we have done to create a design team, process and culture at Apple that is without peer," Sir Jony gushed. "Today it is stronger, more vibrant and more talented than at any point in Apple's history."
Elsewhere, we are told MacBook Pro owners who want to have the fire hazard batteries in their laptops replaced can expect a two to three week turnaround time for repairs. ®
PS: The UK's Financial Times has an interview with magical Ive on his future plans.