Two suspected dark-web dealers allegedly shipped tens of thousands of meth packages across America using postage stamps... that could be traced to one of their home addresses.
The duo – Taiwanese national Leo Hu, and American citizen Tzu Yang Lin, both living in Southern California – went to some lengths to hide their identities, according to criminal investigators at Uncle Sam's Food and Drug Administration. The two men used pseudonyms to peddle what they claimed was the prescription drug Adderall on the dark web, and apparently accepted payment only through Bitcoin.
The pair, it is claimed, approached every aspect of their cyber-business with high levels of caution, given that federal investigators were unable to track them down online. Until, it is alleged, Hu bought postage stamps to deliver the drugs using his real name and address. Lin and Hu deny any wrongdoing.
The Feds claim they bought four packages from the pair via the dark web in an effort to figure out how to track and shut them down. The g-men, we're told, discovered that the pills were not actually Adderall – which is used to treat ADHD but is frequently misused as a recreational stimulant – but instead contained methamphetamine, a related but very different street drug.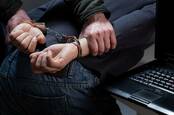 And in this week's weird news, Feds seize dark-web news site, accuse admins of getting rich off drug cyber-souk
READ MORE
It is alleged Hu had his own pill press at home that he used to stamp the meth into Adderall-shaped pills and even add the same markings as the real prescription drug to make them seem more legitimate. Lin was in charge of sales and marketing, it is claimed.
But while the drugs themselves yielded some clues as to who was behind the business that, according to federal investigators, shipped at least 28,000 packages and made $8.8m in sales, it was the packaging that gave them away.
The two men are accused of using Endicia, an online biz owned by Stamps.com, to buy postage labels that they then stuck on packages and dropped off at Hu's next-but-one post office, a ten-minute drive from his house. Those labels were purchased from Hu's personal Stamps.com account that had a record of his real name and address, it is claimed.
According to the criminal indictments [PDF and PDF] lodged against both of them: "Analysis of the information associated with the Stamps.com account used to ship the parcels containing methamphetamine led Agents to identify Hu as the true account holder of the Stamps.com account."
Home address
Hu, we're told, used a fake name and return address – one in Whittier, about 25 minutes away – for the postage label, but his real name and actual address where he manufactured the pills were on the Endicia account, it is alleged. We can imagine it wasn't that difficult for the Feds to gain access to the real account details, from Stamps.com, given that it was suspected of being used to send illegal drugs.
Uncle Sam's investigators cruised by Hu's house, and said they observed the two men there passing packages between one another. Through an open garage door the g-men also apparently saw a suspicious large plastic tote bag in the back of a vehicle. The agents decided to stay and do some surveillance, and said they were rewarded when, 30 minutes later, Hu emerged and drove off, taking the freeway to a nearby post office in Hillgrove, east of Los Angeles.
The agents said they watched Hu dumped a big pile of US Postal Service envelopes – 87 it turned out – into a priority mail bin. After he left, the g-men went in, told staff who they were, it is claimed, and impounded the bin. Sure enough, it is claimed, the envelope labels featured Hu's Endicia account number. So the agents opened them, and allegedly found the same pills they received earlier when they bought samples from the duo through the dark web.
That was enough to get a judge to give the Feds a search warrant, and the next day they swooped on both Lin and Hu's home addresses. Lin was grabbed standing in his hallway, whereas Hu legged it, we're told. He didn't get far.
"On May 22, 2019, Agents executed the search warrant at RESIDENCE-2 and encountered HU inside the premises, who fled out the back door of RESIDENCE-2 through numerous neighboring houses and was arrested a short distance away," Hu's indictment states.
Federal investigators said they found inside "among other items, a pill press, various punches and dies, a large quantity of pills, in similar characteristics those recovered from the packages referenced above and from RESIDENCE-1, that Agents know to be far in excess of 500 grams, and a large quantity of powder. Agents field tested a pill and powder, and both tested positive for methamphetamine."
Hu is still being held after the court decided he was a flight risk based on the fact that he, according to the Feds, made a run for it, whereas Lin is out on bond – although he was forced to hand over his passport. Both men pleaded not guilty on Thursday this week in a central Cali district court, and are awaiting trial.
All of which should at least be a lesson to aspiring dark web drug dealers: don't use your home address when buying stamps. ®