This article is more than 1 year old
How do you know it's finally the weekend? Clock hits 5pm? No, Slack goes down on a Friday afternoon in June
Rap for crap yakety-yak app chaps as chats zapped in hours-long nap
Well, it's official: the weekend starts here.
Not because it has ticked past 1700 on a Friday in Europe, not because it has gone midday in New York City on a Friday, and not because it's already Saturday in Asia and Australia.
No, it's because it's a Friday afternoon at the end of June, and Slack has gone down. That means all that important work you planned to do via the natter app can't be done reliably if at all.
Technically speaking, we're told there's a "degraded service affecting multiple features," and by multiple, Slack means all of them: from logins to messaging to calls and link previews, it's all FUBAR at the moment.
Since 0454 PDT (1154 UTC) today, the IRC-on-steroids chat app, used widely in businesses and personally by netizens, has struggled to deliver messages to folks, and sometimes forcing through missives multiple times.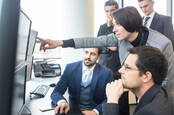 Productivity knocks: I've got 99 Slacks, but my work's not done
READ MORE
By 0700 PDT, the San Francisco-based freshly publicly listed upstart stated: "Many of our users may still be having problems with several Slack services. We have all hands on-deck working on a solution."
Half-hour later, the developer thought things were back to normal. Then its engineers realized all was not well, that the fixes implemented for the downtime weren't working properly.
"Still no news to share on a resolution, but please continue to let us know if you're running into any trouble after reloading. We'll return with more updates soon," Team Slack stated just after lunch.
"Some users have reported intermittent connectivity issues. We remain hard at work to come to a full resolution."
So in short, try hitting control or command-R in your Slack apps to force a refresh, cross your fingers, be patient, or maybe just sign off and hit the bar, gym, park, home, or whatever. We'll let you know if things get better. In the meantime, we'll just put this on... ®