Former UK PM Tony Blair urges governments to sort out online ID
Did someone say ID cards?
---
Former British prime minister Tony Blair has once again stuck his head above the parapet - this time to call for "a proper identity system in the UK" to underpin digital government.
In a foreword to the report from the Tony Blair Institute for Global Change - a not-for-profit organisation which has received £9m in donations from Saudi Arabia - Blair said the UK has failed to crack digital identity.
He said this "has been a major constraint" in public services.
"In the internet era, governments should see software and data as an essential, enabling platform for others' activity, with new security technologies now addressing previous concerns over identity systems."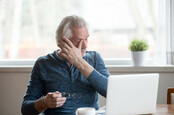 UK.gov's Verify has 'significantly' missed every target, groans spending watchdog
READ MORE
But don't worry, he is not looking relaunch his government's previous failed attempt at ID cards. Instead the report calls for a "a decentralised electronic identity system to all citizens as the flagship digital infrastructure reform."
The report also referred to the disastrous £158m GOV.UK Verify programme, which the Treasury has decided to stop funding as of next year. It praised the system's "federated" rather than centralised, approach of multiple providers.
"However, only a limited number of providers are involved and the system has been confusing to departments across Whitehall, receiving little uptake."
The service also seems to be confusing to users, with as many as half unable to log on.
It has fallen far short of the prediction by the Government Digital Service of 25 million users by April 2020, with just 3.6 million people signing up to it to date.
Instead, the report suggested a "self-sovereign identity" model "in which data is not stored in a centralised database, managed either by government or a private company, but on an individual's trusted, personal device."
It said this would reduce the risk of sharing physical documents that are routinely stored, copied or transcribed in ways that take data outside users' control.
"Self-sovereign identity is also based on public key cryptography, which would protect personal data and reassure those with privacy concerns," it said.
However, one digital identity expert, who asked not to be named, remained unconvinced by the recommendations.
He said: "I think the need for identity in a digital economy is about far more than most people keep going on about – so individuals, yes, but also businesses, people acting on behalf of others and devices acting on behalf of others.
"Anything less doesn't seem to me to solve the real problems, and seems more about trying to come up with new forms of ID card (even if on a smartphone) rather than tackling the bigger issues."
Bringing peace to the Middle East might actually be an easier problem to solve... ®