This article is more than 1 year old
Don't tell Alice and Bob: Security maven Bruce Schneier is leaving IBM
Says bye to Big Blue
Infosec veteran Bruce Schneier has said he'll step down as a "special advisor" to IBM's security business to, in part, focus his time on teaching the next generation of security pros.
Schneier said he also wanted to focus on work with nonprofit projects including Tor and the Electronic Frontier Foundation (EFF), where he is a board member.
The cryptographer, formerly BT's chief security technology officer, has been writing about security since 1998 and has produced more than a dozen books, as well as hundreds of articles, essays and academic papers.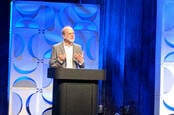 Schneier: Don't expect Uncle Sam to guard your web privacy – it's Europe riding to the rescue
READ MORE
Schneier started working at IBM in 2016 after Big Blue snapped up his startup, Resilient Systems (previously called Co3), where he served as CTO, for a rumoured $100m.
Resilient developed an incident-response platform, which was eventually integrated with IBM's Security Event and Incident Management (SEIM) system, called QRadar.
The partnership started well enough. "Everything I've seen so far indicates that this will be a good home for me. They know what they're getting, and they're still keeping me on. I have no intention of changing what I write about or speak about – or to whom," Schneier said at the time.
Three years later, he's tossed his blue IBM blazer. For comparison, Schneier spent seven years as the CTO of another startup, Counterpane Internet Security. When Counterpane was acquired by BT, he spent another seven years as its security expert.
Schneier describes himself as a public-interest technologist – which points to one of the potential reasons he might not continue working for a global corporations past his contract obligations.
"I will continue to write and speak, and do the occasional consulting job," he said of his future plans. "I will continue to teach at the Harvard Kennedy School. I will continue to serve on boards for organizations I believe in: EFF, Access Now, Tor, EPIC, Verified Voting. And I will increasingly be an advocate for public-interest technology."
We'll finish this post with a quote from the website SchneierFacts, which compares him to Chuck Norris: "Bruce Schneier only smiles when he finds an unbreakable cryptosystem. Of course, Bruce Schneier never smiles."
As Schneier himself has said: any person can invent a security system so clever that he or she can't imagine a way of breaking it. ®