DXC Technology has said it incorporated CXD Infrastructure Solutions to house a data centre asset acquired under a co-location agreement with Credit Suisse, and not - as many staff fear - to offload legacy ops.
There has been a restlessness at DXC. Perhaps no more so than usual, however this time it isn't related to redundancies or a reduction in staff overheads, but rather the creation of "CXD" and what it could mean.
"We created CXD Infrastructure Solutions to hold the data centre asset that were planning to acquire as part of a co-location services agreement with Credit Suisse," DXC told us in a statement.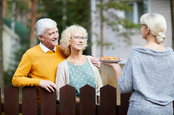 Do Xpect Custard Creams? DXC buys cosy New Jersey data centre, moves in with Credit Suisse
READ MORE
The buy of the 285,000ft2 (26,477m2) bit barn was subsequently confirmed on 13 May, as we covered here. Under the terms of the agreement, the facility will continue to serve the US division of the investment bank for 13 years, and potentially longer.
"The formation of this legal entity is consistent with our ordinary business, where new legal entities are created for specific purposes, including tax strategy," DXC added in its statement to us.
DXC employees can be forgiven a certain level of paranoia - the company has got rid of 40,000 net staff numbers in the past two-and-a-bit years, and internally morale is, we are told, pretty low, not helped by the continuation of yet another round of layoffs.
A bunch of staff contacted us in recent weeks about the formation of CXD, with many interpreting its registration with UK business repository Companies House on 2 April and stateside with the SEC in early May as a precursor to the legacy side of DXC's business being sold.
DXC, as we've noted before, has multiple challenges but boiled down to two fundamental ones: the company has to ramp the part of the business it refers to as "digital" sales by 25 to 30 per cent and minimise declines in its traditional outsourcing divisions to between 5 and 8 per cent.
Turnarounds of this magnitude are easier said than done, and so some staff are understandably looking for signs that management will hive off sections and send them into the arms of another business. ®