Armed with a billion dollars, Equinix goes after the hyperscalers
Data centre joint venture bankrolled by Singapore sets its sights on Europe
---
Colocation giant Equinix is about to test a new business model - the company has entered a joint venture to build bit barns specifically for hyperscale customers.
To this end, it has obtained more than $1bn in funding, all provided as part of a joint venture with the sovereign fund of Singapore - better known as GIC (formerly Government of Singapore Investment Corporation). The venture, called xScale, has set its sights on Europe, with new, massive server farms planned for Amsterdam, Frankfurt and London.
"The majority of hyperscale data centers are in the US, which opens a greenfield opportunity in EMEA and Asia-Pacific, where local proximity to regional users is critical to ensure consistent performance and quality of experience," Eric Schwartz, chief strategy and development officer at Equinix, explained in a blog post.
Hyperscale data centers are very different from traditional colocation and enterprise facilities: the key here is the economies of scale. These facilities can house hundreds of thousands of simplified servers, engineered to be cheap, and with redundancy achieved through software, rather than hardware or data centre design.
In simple words, hyperscalers strive for minimal cost per square foot of data center estate. But that doesn't mean the facilities themselves are cheap - according to Synergy research, the 20 largest cloud and service providers splurged almost $120bn in capital expenditure in 2018, with most of the funds going towards furnishing racks in their vast data centres.
The new xScale bit barns will be built on, or in close proximity to, existing Equinix campuses and will be managed and staffed by the company.
Under the terms of the deal, GIG will contribute most of the cash for an 80 percent stake in xScale, while Equinix will pitch in existing data centers in London (LD10, originally built by IO) and Paris (PA8), as well as "certain other development interests."
PA8 was the first ever Equinix data centre built specifically for hyperscalers, but LD10 in Slough might need a bit of work to qualify as a home for the public cloud.
London and Amsterdam are also getting brand new data centers, and Frankfurt is getting two - in total, that's six facilities for xScale, offering 155MW of power capacity when fully built out.
"Partnering with a world-class investment partner like GIC will provide the opportunity to make significant capital investments in order to capture targeted large-footprint deployments while continuing to optimize our capital structure," said Charles Meyers, president and CEO at Equinix. "We look forward to launching similar JVs in other operating regions."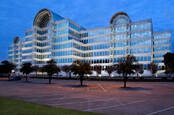 Equinix is rolling in it.... money that is
READ MORE
The press release name-checks five companies as potential customers: Alibaba Cloud, AWS, Microsoft Azure, Oracle and Google. All of the above are already present in 'regular' Equinix data centres. The company says that more than $500m of its annual revenue is currently down to hyperscale companies.
Equinix notes that xScale shouldn't be seen as an entry into wholesale colocation segment, where its rival Digital Realty reigns supreme, but an attempt to woo "a targeted group."
A few years ago, it was trendy to say that the convenience of public cloud will wipe out the colocation market: this couldn't be further from the truth. A recent report from Synergy found that in 2018, colocation revenue from hyperscale customers grew 24 per cent year-on-year in wholesale colocation, and 16 per cent in the retail colocation segment.
In comparison, revenue from "other service providers" – which include telcos, ISPs, hosting and content providers – grew about 8 per cent in wholesale colo, and 9 per cent in retail. ®