Microsoft: OK, we admit it, spring is over. Here's your Windows 10 19H2
Mysteriously missing update finally arrives in preview form. World shrugs
Updated The next version of Windows 10, aka 19H2, finally arrived in the hands of testers last night to a collective "meh".
With the UK sweltering in a heatwave, even Microsoft could no longer pretend summer had not arrived and so emitted build 18362.10000 of Windows 10 to the Slow Ring of its volunteer testers ahead of a full release later this year.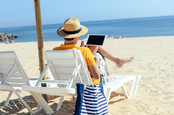 Summer's here, where's Windows 10 19H2? For Microsoft, spring ends whenever the heck it says so stop asking
READ MORE
As if to emphasise that this is very much a step away from the previous big bang releases (and calling last October's effort a "bang" would be an understatement for all the wrong reasons) the numbering has remained the same as May's update (currently on 18362.207) with only the revision set high, presumably to allow a goodly number of patches for 19H1.
Ramming home the fact there won't be a huge amount of new bits this time around, Microsoft likened the process to monthly cumulative updates rather than a full build.
That's not to say there won't be some new toys. The Redmond gang plans to use Controlled Feature Rollouts (CFRs) to test some changes with select Insiders. This has historically left those on the naughty list feeling a little left out; after all, what is the point of being an Insider if Microsoft does not allow you to test its latest and greatest?
While fans will be disappointed to see 19H2 will indeed "be a scoped set of features for select performance improvements" rather than the whizz-bangery they might have hoped for, commercial and enterprise customers will be breathing a sigh of relief. Firstly, because Microsoft has switched to a less frantic cadence of big-release-then-patch-release and secondly that 19H2 exists at all.
It is, after all, the version that will receive 30 months of support (the spring updates only enjoy 18 months.)
Director of program management for Windows Servicing and Delivery John Cable described the update as "a September-targeted release of Windows" and boasted that update would be a considerably quicker thing to install because, well, "the update will install like a monthly update".
Cable memorably issued a sequence of statements after the disastrous Windows 10 October 2018 Update that managed to avoid the word "sorry" entirely, only saying through gritted teeth that "we apologize for any impact" rather than for sending borked code out into the world.
As for 19H2, thus far there is little to see. The Insider team has stated the update contains a couple of OEM-specific mods, but nothing else visible at this stage. Insiders on the Fast and Skip Ahead rings will continue receiving builds of 20H1 – next year's Windows 10.
Quite why it took Microsoft so long to confirm what many suspected – that 19H2 would be little more than a jumped-up service pack – is anyone's guess. The Register contacted Microsoft to find out if this would be the new normal but we have yet to hear back.
Maybe we need to serenade the Insider team again? ®
Updated to add at 1025 UTC 3 July
A Microsoft mouthpiece would neither confirm nor deny that this would be new normal and told us: "Given the scope of the 19H2 release, we're taking the opportunity to try something new in an effort to continue to improve the Windows 10 update experience. This may provide us future flexibility to offer a balanced range of Windows 10 feature update delivery methods including OS swaps as well as servicing technology (like the monthly update process)."
So that clears everything up, right?